Immortals Fenyx Rising – The Lost Gods Is A New Top-Down DLC
Ubisoft revealed the third DLC package for Immortals Fenyx Rising as you're getting a whole new experience in The Lost Gods. This time around you are one of the gods trying to influence people from on-high, as the game transforms into a top-down adventure title. A lot of the mechanics are the same, the perspective has just changed as Fenyx will now be the one trying to help a lonely human become something more, and try to assist in finding the old gods in a time of peril. We have more info on what will be the last DLC pack for the game below, along with the trailer to show it off.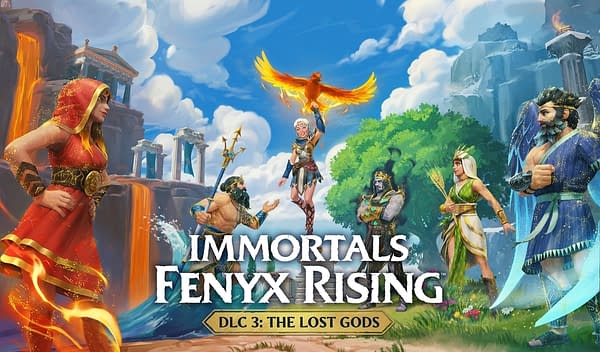 In this final post-launch adventure, players will be introduced to new gods and monsters, discover new regions full of challenges and secrets, and take on challenging new enemies. As part of a new progression system, players will also have access to powerful upgrades, specialized bonuses, and unique fighting styles, in addition to two brand-new abilities:

Catastrophe Quake: A powerful stomp that knocks down the enemies around Ash.
Nature's Fury: An energy beam that damages anything that crosses its path, increasing its damage over time.

Players can currently earn in-game rewards by inviting friends to purchase Immortals Fenyx Rising through the Friend Referral Program. Invited participants that purchase and play the game will also receive a reward, the Frozen Weapon Pack. To access Immortals Fenyx Rising – The Lost Gods, players can purchase the Season Pass for $39.99, which includes immediate access to all three post-launch DLC packs, introducing players not only to new characters and challenges, but to new realms and new ways to play. Immortals Fenyx Rising – The Lost Gods can also be purchased separately for $14.99. The game's free demo sends Fenyx on a quest to discover the mysterious secret of the cyclops. Set in an archipelago built exclusively for the demo and inspired by Aphrodite's region of the game, the demo features a mix of combat, exploration and puzzles designed to get players primed for the full experience.