Oh, Scott Pilgrim Vs. The World. You'll always have a place in our hearts across multiple mediums for years to come. That's because the little indie comic that could managed to find a place in comics, film, video games, board games, clothing, stickers, cell phone cases, cosplay items, and a few dozen other things sitting in all our homes right now. But one of the more cherished items for gamers is the actual video game that was released back in 2010 called Scott Pilgrim Vs. The World: The Game. Developed by Ubisoft Montreal, the game was released in August 2010 along with the film as a four-player beat 'em up that loosely followed events of both the movie and the comic books. You could play as Scott, Ramona Flowers, Stephen Stills, and Kim Pine, solo or as a team or group from the first Evil Ex all the way to Gideon. The tragedy of the game is it was a digital release only for Xbox 360 and PS3, with no PC port or physical release, that eventually went unlisted in 2014.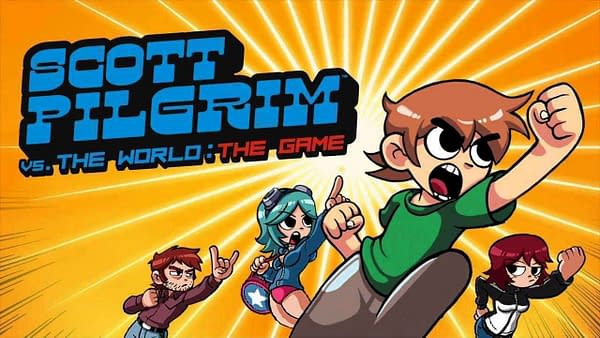 Cut to the present day! On May 21st, the Academy of Motion Pictures held their own watch party of Edgar Wright's film based on the comic where he, members of the cast, and the original comic book creator Bryan Lee O'Malley were live-tweeting as it aired. During the event, we got an interesting interaction as O'Malley put out a call for the video game to be brought back. To which Ubisoft's main Twitter account replied with the thinking face emoji as a response.
bring back the scott pilgrim game #bringbackthescottpilgrimgame #WatchWithTheAcademy

— Bryan Lee O'Malley (@bryanleeomalley) May 21, 2020
🤔

— Ubisoft (@Ubisoft) May 21, 2020
Could it mean the company might actually take the request seriously and re-release the game? Is this an actual teaser that it's pretty simple for them to fulfill such a request and just put the game back out there? Who knows! But the fact that the creator got the company to even respond is big news. As someone who used to have a copy of Scott Pilgrim Vs. The World: The Game until it vanished from my hard drive in an update (thanks, Microsoft, for that Kinect patch), we can vouch there is an audience for it who would love to see it be re-released. Say maybe in time for the game and film's 10th anniversary, which will be happening on August 13th, 2020. That would be really awesome.
Enjoyed this article? Share it!