Misprinted "Mystic Intellect" Deck Sparks Interest – "Magic: The Gathering"
Like something out of the Roald Dahl book Charlie and the Chocolate Factory, Emiel van Daele has found a Magic Golden Ticket, so to speak.
When Emiel, a Magic: the Gathering player from the Netherlands, opened his Commander 2019 "Mystic Intellect" deck, he was shocked to find that the cards were all, save for the foil Commanders, printed in a peculiar way. Instead of the conventional method, both the front and back of the cards were printed on one face.
Emiel first reached out to Jimmy Wong of the "Command Zone" podcast, via twitter @jfwong, about this anomalous precon, to which Mr. Wong replied, "these seem to be seriously valuable[…]" (Mr. Wong could not immediately be reached for comment). On the social media platform, a collector offered Emiel $300, but by then Emiel had gotten offers much higher than that. Right now, the highest-standing public offer for Emiel's deck in the "Misprints, Oddities, Rarities for Magic: the Gathering, MtG" closed Facebook group is over $25,000.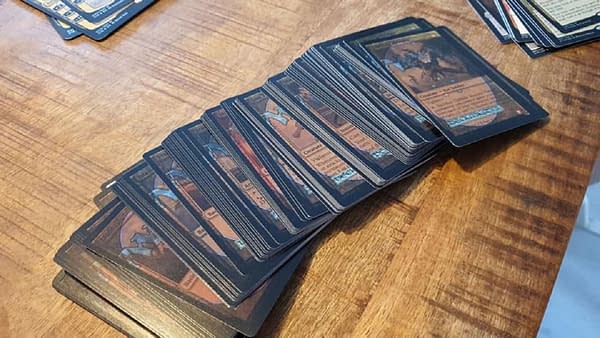 Emiel has reported that he will spend his earnings on student loans first, and "Maybe an Unlimited booster." When asked if he will re-purchase a cop of the Mystic Intellect Magic deck, Emiel laughed. "I tried, but its sold out," Emiel said. "I can't find it anywhere!"
Meanwhile, news of this amazing and rare deck has spread from Twitter, to Facebook, to Reddit and beyond. "In 10 years from now, people will still be talking about this story," Emiel mused. "To be part of Magic history like this is beyond belief."
Emiel has been playing Magic: the Gathering since the Ice Age expansion set from 1994, itself a part of Magic's extensive history. However, according to Emiel, "I have no experience with this," having just joined the closed Facebook group to share his find.
"Without Charly," referring then to Charly Traarbach, Emiel's friend and associate who is helping him with properly valuing the deck, "it would be difficult to comprehend what I actually have."
Coincidentally, Emiel is not alone. Dylan Engel is another newcomer to the Magic misprints Facebook group. He also came to the group hoping to sell a Mystic Intellect deck that was misprinted, albeit misprinted in a different way. As of last night, he has been offered upwards of $500 for his deck.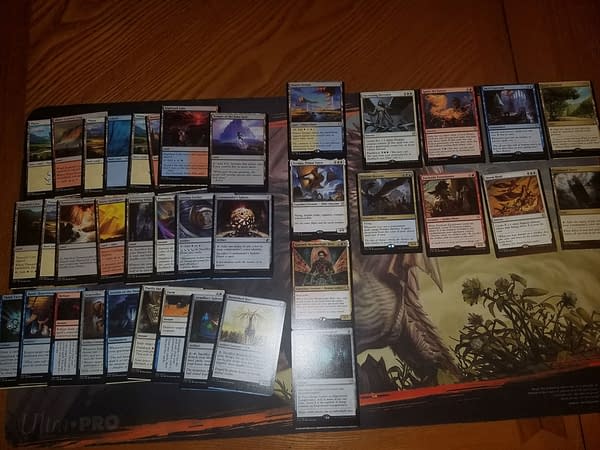 Dylan is currently paying off an engagement ring with the money he hopes to earn. "[I got engaged] two months ago," he says. "If I wasn't paying off an engagement ring I know I'd keep [the deck] for my collection."
Despite what may look to the untrained eye like a common occurrence, it is important to note that with so many people reporting misprinted Magic cards, most decks are not misprinted at all. Confirmation bias spawns from those opening normal decks and not reporting them, while those with factory error decks often will make the claim. Bryan Hardenberger, a co-founder of Moose Loot, founder of Squirrel Stash, and Magic misprint enthusiast had this to say about the phenomenon:
"Statistically we see more misprints in batches like this for preconstructed products because decks are printed together on the sheet, whereas in boosters cards do not necessarily end up in the same booster pack (or even box).
I would speculate that errors occur at the same frequency in the different products, or at least with the same margin of error. We just get to see so much more Commander product with errors than anything else."
Bryan is still hard at work making a Commander deck that is solely comprised of misprinted cards. When asked which commander, Bryan remarked, "Derevi."
All things considered, the misprinted deck of Emiel van Daele's continues to make waves within the Magic: the Gathering community at this time. If you have a misprinted Magic card and want to learn more about it, there are various websites that can help you find out more.