Joe Manganiello Apparently Sells His Soul To Liquid Death
Joe Manganiello may be promoting all things D&D and his own clothing line in Death Saves, but now, his soul belongs to canned water. Specifically, Liquid Death, who is basically about as metal as you can get for a water distributor. Much like how Barq's used to look like a beer can holding root beer, their cans look like modern beer cans that hold water. They're very much in the idea of trying to get away from the waste that is plastic bottles, which is where Joe comes in.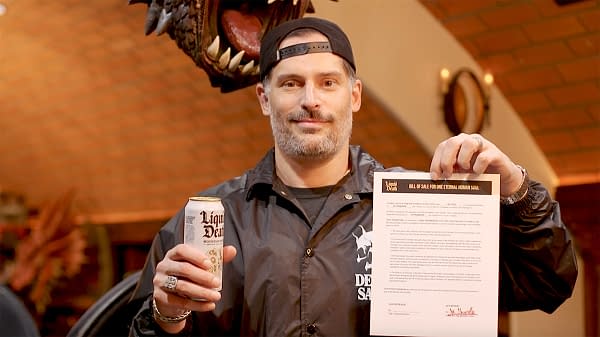 Manganiello is announcing that he is now an official Liquid Death shareholder and brand ambassador. And as an ambassador, he'll help the brand promote its sustainable water option. You can watch the promo video of Joe Manganiello signing away his soul below as he promotes the water company to you and anyone else wanting to drink water as metal as it can be. Oh yeah, he signs it in his own blood too, so be warned.