Konami and Ukuza released a new game today out of the blue as we have a new 2D action-platformer by the name of Skelattack. This is a game where you play a freshly arrived member of the afterlife, in your skeleton form, as you make your way around the ever-changing world that you are now a member of. The game is available today for $20 for PC and all three major consoles. You can check out more about it below along with some screenshots and a look into the story.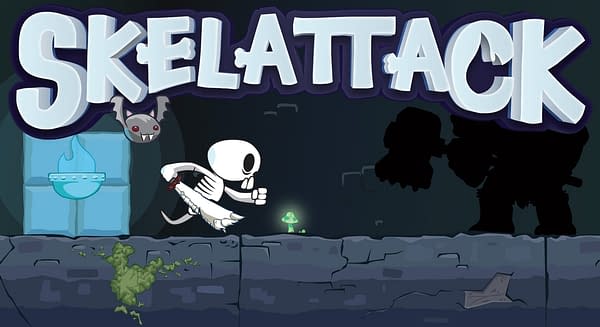 As a newly deceased member of the Underworld and resident in the happy hub of Aftervale, Skully is just getting the hang of being dead and coming to terms as a skeleton. As he prepares for his Remembrance to understand who he was in his past life, Skully finds himself in a fight to protect his home from plundering humans from above. In an attempt to steal the magic that kindles the spirits of the dead, the Blue Flame, the humans kidnap Aftervale's elder skeleton, Elzedon. Together with Imber, Skully's trusty bat friend, players will control both characters to jump, slash, and flap their way through the Underworld to stop the human threat, save the Elder, and protect the Blue Flame.

Each dungeon is a vibrant juxtaposition of danger and charm contained in its colorful, hand drawn environments and characters. Players are encouraged to bask in the Tim Burton-inspired art style and revisit each stage at their leisure to uncover its vast secrets. Amidst its impressionist artistry is a fun and fluid platformer, challenging players to utilize Skully and Imber's many versatile abilities to wall slide, fly, jump, and attack through each obstacle and puzzle.
Enjoyed this article? Share it!