Fixnet Games has unveiled their latest addition to Marvel Strike Force as they will be introducing the Alliance War to the game for the one-year anniversary. You're going to get a lot of Helicarrier on Helicarrier action with twelve rooms to defend with teams of characters you will put together to defend yours and raid theirs. Your "Alliances" as they are called will have different strategies and tactics based on how wide your roster is. Much like Blitz, Arena, and Raids, Alliance War also has its own currency, and all players will have the opportunity to compete for rewards from individual war earnings that can be spent in the War Store. We have more info for you below on the update, as well as pictures and a trailer.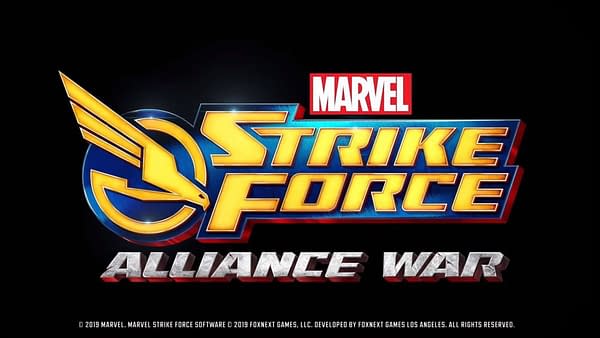 Also releasing during the Alliance War update, Marvel Strike Force welcomes the return of the Wakandan characters (first added since Black Panther and Killmonger)  with M'Baku springing into battle soon and Shuri and Okoye following closely behind. Marvel Strike Force commanders can utilize their combat-controlling abilities and healing powers to conquer enemies in Raids, causing immense damage against foes that dare to cross their paths.

Killmonger steps up as the first Wakanda villain to rise up to that challenge. As an enemy of Black Panther, any opponents in his sights should think twice and consider his devastating attacks that are capable of critical damage during battle. M'Baku joins Killmonger as another super hero on his side. With his superhuman strength, speed, agility and stamina, M'Baku shields his Wakanda team while leaving his heroic counterparts in ultimate defeat.

Last, but certainly not least, the crux of the Wakanda team Shuri and the great warrior Okoye pave their way into the Alliance War. Shuri, the princess of Wakanda, is a dangerous fighter and her technical genius  allows her to enhance the abilities of her Wakanda allies. As a highly skilled warrior in many forms of combat, Okoye will serve as one of the most acrobatic characters in the Wakanda team.
Enjoyed this article? Share it!