Today, Microsoft finally revealed the complete list of games coming to Xbox Game Pass in March, and one look at the list shows an impressive lineup that has us impressed. The eight titles on the way starting March 1st are Rise of the Tomb Raider, Super Lucky's Tale, Resident Evil Revelation 2, Oxenfree, Sonic CD, The Final Station, Euro Fishing, and Sea of Thieves. We already talked about Rise of the Tomb Raider over the weekend when Major Nelson made the reveal, but the other seven are a pretty interesting mix of titles ranging from indie developers all the way to the latest releases.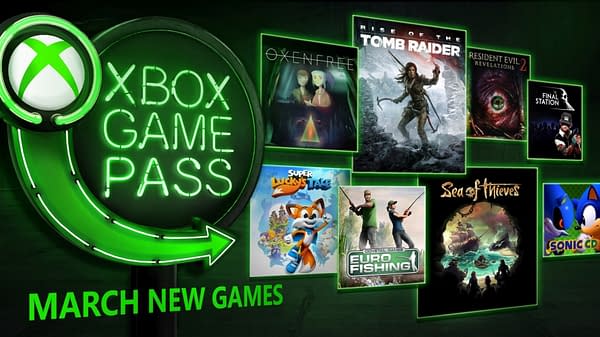 Obviously, the big one on the list is Sea of Thieves, which was most likely added due to the overwhelming popularity of the beta that's been a popular game to stream on Twitch and has become one of the most sought out games on YouTube over the month of February. According to the info released, the game will remain on the pass for an extended stay until March 20th, most likely to entice people to buy it after they've had a chance to play it in full for a bit. It's a great promotional strategy that we can't help but applaud, but we'll see how it shakes out as far as buys down the road.
Enjoyed this article? Share it!