Team17 along with SMG Studio and DevM Games have announced that their next game, Moving Out, will be released this coming April. Specifically on April 28th, 2020 for PC and all three major consoles. This was one of the crazier multiplayer co-op games we tried out at PAX West as you and three of your friends try to move out of a house and into a moving van. All while the homes, the property, and even yourselves get in the way of doing an efficient job. You can check out the announcement trailer below along with more info on the game.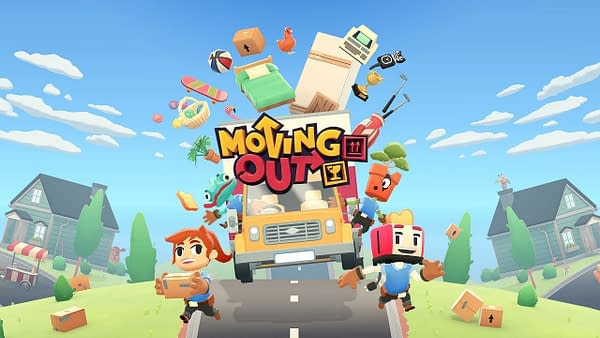 Grab a friend (or up to three) and jump into some multiplayer removals fun in Moving Out – once we fish the mattress out of the pool, that is. The town of Packmore awaits, and its inhabitants need to move ASAP. Luckily for them, the friendly Furniture Arrangement & Relocation Technicians (F.A.R.Ts) from the newly established 'Smooth Moves' removal company are eager to help and participate in the back-breaking labour.

Featuring a wide range of inclusive character customisation options ranging from hijabs to glasses and wheelchairs, players are able to truly live out their furniture removal dreams in a style that perfectly represents them. For players who would just like an extra helping hand, there are options to ensure everybody can enjoy the game equally. A wide variety of accessibility features are open for use, including but not limited to; increased time limits, dyslexia-friendly text, keyboard rebinding on PC, the ability to skip levels and a sliding scale for the user interface size.
Enjoyed this article? Share it!