MSI Announces A New Partnership With Battlefy At PAX East 2020
MSI had their own PAX East 2020 news coming out of the convention as the company formed a new partnership with Battlefy. According to the press release today, MSI's partnership with Battlefy will launch a new era of the MSI MGA USA League. This will give gamers new opportunities to compete at a higher level in Fortnite, Overwatch, League of Legends, CS:GO, and others. Using the Battlefy platform, competitors will be rewarded with MGA Reward Points redeemable for prizes and products. Plus, tournaments held later in 2020 will determine teams and candidates for exclusive tournaments. You can check out more MSI stuff happening at PAX East this weekend at their booth and can ask them about the new deal. Here's a few quotes from today's announcement.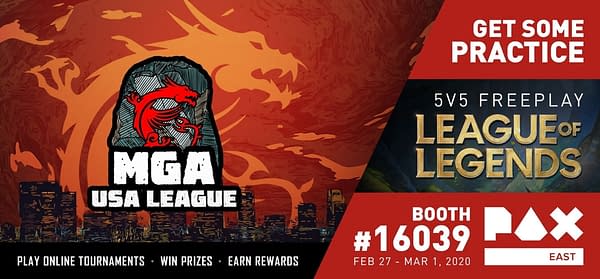 "As Esports continues to grow, MSI is ready to not only offer the best gaming products, but to strengthen the community by supporting teams like Complexity and Method, and organizations like High School Esports League and the National Association of Collegiate Sports," said Sam Chern, MSI's Corp. Marketing VP. "MSI Gaming Arena is a testing ground for the best gamers in the world, but we want it to be a place where gamers of all levels can hone their skills and prove that they are ready to compete professionally."

"Battlefy is excited to work with MSI to power all aspects of the online qualifiers for the MSI Gaming Arena Series," said Yohan Sengamalay, General Manager at Battlefy. "They are the ideal partner because they share our passion for empowering gamers and our commitment to building world-class competitive experiences. We cannot wait to see the best players in the United States battle it out."