Netmarble Announces "Marvel Future Revolution" At PAX East 2020
This afternoon during PAX East 2020, Netmarble and Marvel revealed their next mobile title for iOS and Android with Marvel Future Revolution. According to the info released today, you're getting a multiplayer open-world RPG with, as you might suspect, a cavalcade of top heroes from the comics. And yes, we need to be clear here, this is not MCU related. All of the character designs are specific to the comic books. Much like MvCI was and how Marvel Future Fight is. The four main characters you'll start off with are Captain America, Spider-Man, Captain Marvel, and Doctor Strange. What's more, it appears from the trailer, which you can watch below, we're going to have the good Doc pulling in heroes from other universes. So a lot of hardcore Marvel fans are going to be having a heyday seeing different versions of heroes.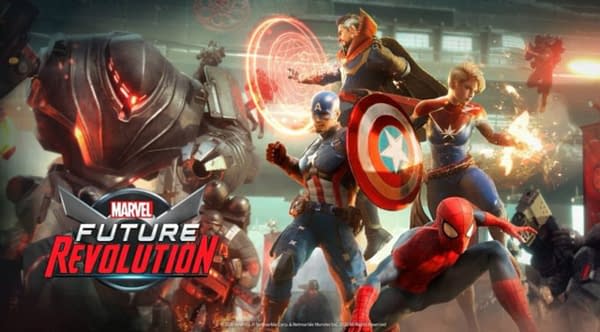 According to the press conference, there will be a mix of familiar foes including MODOK, the Red Skull, Green Goblin, Yellow Jacket, Red Goblin, and Baron Mordo. That alone says were obviously getting both Iron Man and Ant-Man somewhere down the road. The main theme of the game will center around a crisis known as The Convergence, which is an event you hear about on occasion in Thor's universe, and was part of the plot to Thor: The Dark World, but never fully realized the way they describe it to be. So it's likely we'll be getting their take on a possible multi-realm disaster. No word yet as to when Marvel Future Revolution will be released. But we're guessing this fall since they made no mention of a date or even beta signups.