Neverwinter: The Heart of Fire Gets a Launch Trailer and Details
Perfect World Entertainment released a brand new launch trailer today for Neverwinter's latest expansion, The Heart of Fire, featuring Acquisitions Incorporated. The Penny Arcade crossover features Jerry Holkins, Mike Krahulik, and Amy Falcone in their respective AI roles training you as a new intern for the company by going on terribly planned missions. Including going to e beholder party. The company released more details of what the expansion will include as well, which we have for you here. You can download the PC addition now, while the console additions will come later.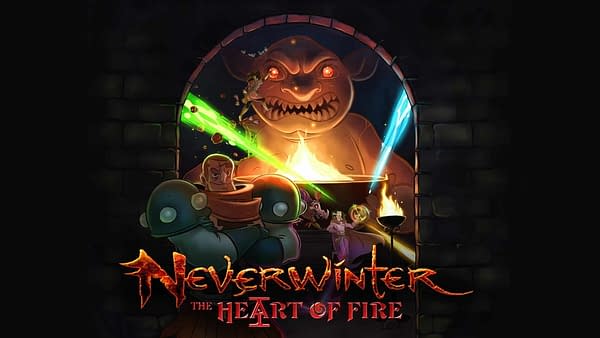 The Heart of Fire Storyline – The minds behind the popular Penny Arcade games and gaming culture webcomic lend their wit to the latest Acquisitions Incorporated storyline. Become a member of the infamous company of adventurers and engage in questionable activities alongside Omin Dran (Jerry Holkins), Jim Darkmagic (Mike Krahulik) and Walnut Dankgrass (Amy Falcone).
New Campaign: Acquisitions, Incorporated – It's not all dressing up as 11-eyed monsters and coasting through the brisk skies on the company airship. The newest campaign levels up with the player and puts an emphasis on acquiring items including new boons and access to the new endgame Skirmish!
New Skirmish: Manycoins Bank Heist – Beyond the internship stage of your tenure with Acquisitions Incorporated, players will be given the opportunity – nay, the duty – to defend the Manycoins Bank vault from Zhentarim intruders seeking riches of the realm. Surely, there's good pay in protecting the Protector's payload!
Professions Overhaul – The Seven Suns Coster Market acknowledges certain adventurers' acuity to the economic arts – and now beginning at level 20, players may now own a workshop, hire artisans to gather resources and craft items in the reworked, more personalized Professions system!
Salvage and Dungeon End Chest Changes – Astral Diamonds given as rewards has changed! Earn the coveted currency directly through dungeon delves as well as completing content. Dungeon Chest Keys will no longer be required to open chests and have been converted into tokens for free end-of-dungeon rerolling. This may also be done with Astral Diamonds. Finally, the Salvage feature has been phased out with this update.
Class Balance Updates – In a continued effort to ensure the game is fun for everyone and each class is viable, a wide variety of changes have been made to class powers and general balance. Check the official Neverwinter blog for patch notes and more details.
Loot Experience Improvements – Much of the loot gathered throughout the Forgotten Realms is now automatically added to a player's inventory when they are in close proximity. Need/Greed rolls still pop up as needed. Fewer treasure (vendor loot) items drop and other less-desired loot no longer drops. Check The Heart of Fire's patch notes for even more detailed information.