While all of the action of San Diego Comic-Con is happening, Nintendo has decided to throw a special Splatoon 2 Splatfest for those at home. The company will be having a battle starting on Friday, July 20th at 9pm PDT and running for 24 hours as fans will fight over which they like better: Squid or Octopus. Considering the nature of the game, yeah, we're a little curious who will come out on top in the Turf War, Solo Wins, and Team Wins percentages. Here's Nintendo's take on the battle.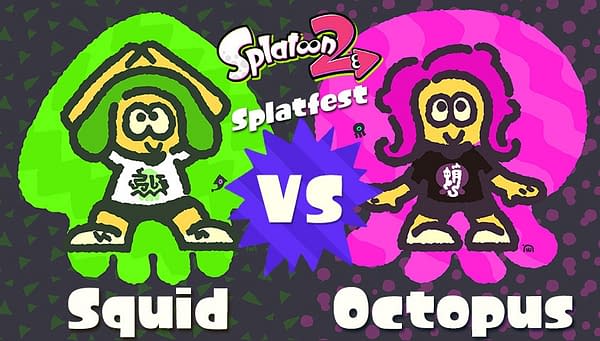 Now we can't just have any ol' question for this one. In fact, this tricky question concerns cephalopods everywhere: Which sea creature is your favorite, Squid or Octopus?

Yes, that's a lot to wrap your tentacles around…but that's not all! To make the event more special, players on Team Squid will play as Inklings, and players on Team Octopus will play as Octolings. Even if you don't have the Octo Expansion, if you're reppin' Team Octopus, you'll play as Octolings. On the other hand, those fighting for Team Squid will play as Inklings even if their usual character is set to Octoling. Yes, this Splatfest really makes you think (emphasis on the "ink").
Enjoyed this article? Share it!