A couple weeks ago I got some really cool news sent my way: J!nx (or Jinx, if you prefer) came out with a set of Overwatch clothing and gear to celebrate the game's anniversary. Naturally, being a player, I couldn't resist — I asked what we could snag for review. Below are some of the awesome items they released for the anniversary, which now have a lovely home on my body and in my closet.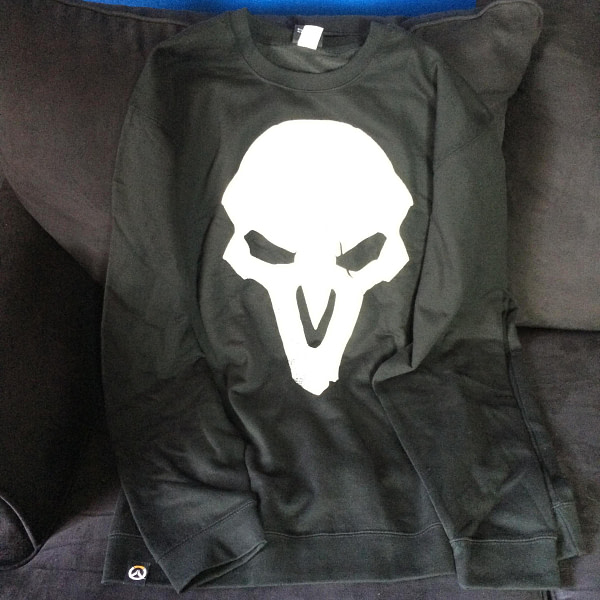 First on the list, we have a black Reaper crew neck fleece. This one has a nice and tight fit in the right areas while remaining loose in others. You can pull the sleeves up to the forearms and have a nice, tight grip without a terrible baggy look you might get with most sweaters.
It also stretches down to where I can pull it over my butt and have an extra layer of clothing covering my pockets and keeping me warm without a draft. The reaper logo on the front looks awesome with a bit of the "wear and tear" look you see on shirts these days. Awesome item, and it's a shame it'll be sitting in the closet until the fall.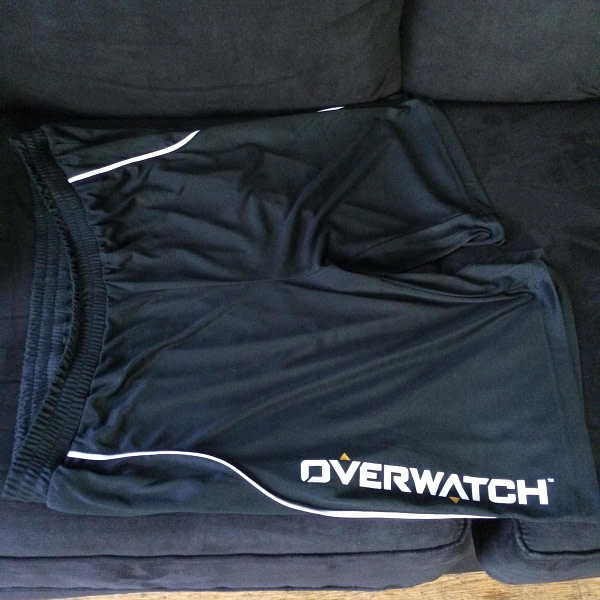 Next up are the Performance Shorts, which are clearly designed for active wear when you head to the gym, play ball, or just work out in general. The polyester material feels the same as basketball or soccer shorts would — lightweight and baggy for movement, but still keeping a slim, tight shape to cover the legs. They're actually long enough to cover my knees, which I've always viewed as a bonus, just in case I slip or trip and instinctively go knee-first like we all accidentally do from time to time.
They also have a pair of pockets that are good for storing a phone or MP3 player — great for working out to music without losing your phone. But they're also not that big, so you can't really store a lot inside them. You get the Overwatch name on one side and a tiny logo on the other just to remind people they're Overwatch shorts. I've enjoyed wearing them, but they can get too hot if you stay active in them for a long time. I liked them, just not for extended periods of time.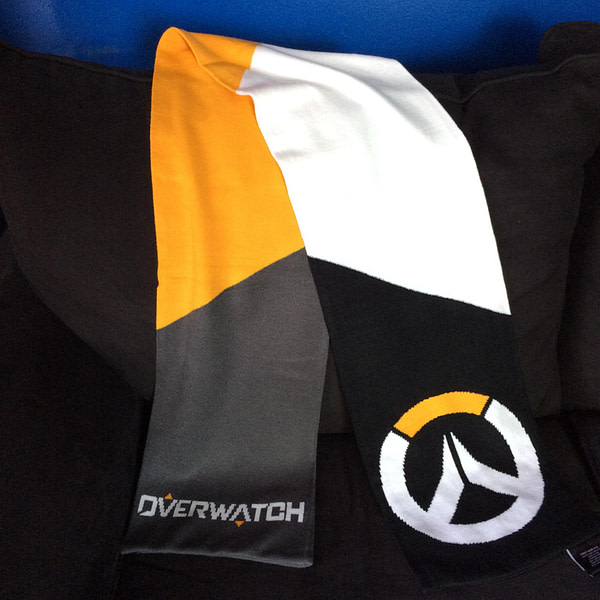 My second-favorite item in the bunch had to be the Overwatch scarf. I own a few different scarves (being in a land where it snows half the year), including a hand-knit Doctor Who scarf that's just as long. This one by far is the softest scarf I've ever owned, and that is an awesome thing to have when you're wearing one around your neck for an hour or so.
It's a few inches shorter than some of my other scarves, which became noticeable when I was tying it in different knots and styles while also trying to show off the logo. (Because if you're going to have an Overwatch scarf, you need to show off the logo!) But overall, this is very cool to have and I can't wait to throw it on this winter. The best item of the bunch is the Heroes Premium Snap Back Hat, a basic black hat with the Overwatch symbol on the front. I can say it has one of the best-embroidered logos I've seen, and it'll definitely keep the logo there for years to come and not lose many threads to it (unlike the kind you see in baseball hats that go to hell after a few years).
The best part of the hat is on the underside of the flat bill: A portrait of the entire set of heroes, like the one you can see on the anniversary screen of the game as I type this. That just sold me on it and made me want to wear it to every tournament I can from now on. Overall, the gear is awesome; it's well made and feels like clothing I would wear in public without shame. And that's saying something, because there's a lot of gear for games like Call Of Duty, Halo, and even Nintendo properties that just look horrendous. Like no one took the time to ask fashion sensible gamers if it looked good before putting it out. You can see Jinx took the time to make this gear great and worth the price.