Perfect World Reveals Remnant: From The Ashes – Subject 2923
Perfect World Entertainment revealed a new DLC pack on the way this summer as we will see Remnant: From The Ashes – Subject 2923. The DLC will drop on August 20th, 2020, and will include a new campaign mode as well as more weapons to choose from, harder modes for you to tempt fate in, and a bunch of new zones and bosses to deal with. The devs are also throwing in a number of new quests in case you really want to challenge yourself. We got the full details below about the DLC along with some screenshots and a new trailer for it.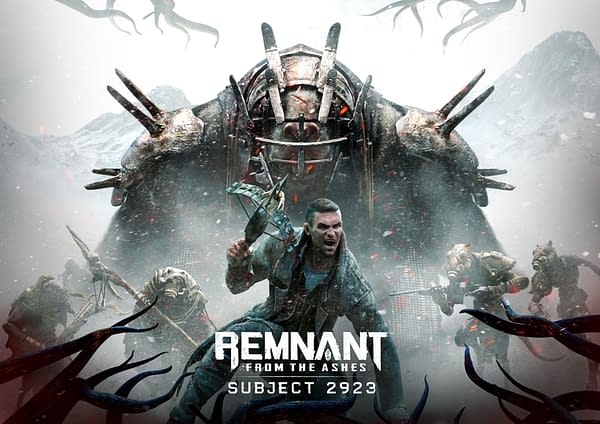 Survivors will continue the fight for humankind and put an end to the dreaded Root, the evil force plaguing Earth, in Remnant: From the Ashes – Subject 2923. In a brand new campaign mode, players will discover the origins of the Dreamer Program and its connection to the Root. Following the downfall of the Dreamer, the streets have grown quieter, and more humans are braving the city. Hope has been rekindled, but Earth is not rid of the Root just yet. As players seek out the location of the remaining Root, they will meet unexpected allies, traverse unfamiliar zones and dimensions and overcome new threats to put an end to this evil force, once and for all. This thrilling new adventure will span across the rugged wilderness of Earth and beyond, where players will experience new quests to complete, new gear to acquire, along with new enemies and bosses to conquer.

New Campaign Mode: Subject 2923: Players will discover the origins of 'The Dreamers' and how they connect to the dreaded Root in this brand-new campaign – continuing the story of Remnant: From the Ashes with an expedition to Ward Prime, and several new locations.

New Zones, Bosses, and Quests: From rural lands and an abandoned military base on ruined Earth, to the frosty and unforgiving heights of the mountainous world Reisum, players will take on intense new challenges as they continue their fight for survival.

Superior Firepower: Players will outfit their character in order to survive these dangerous new experiences, choosing from a host of new weapons and modifications, new armor sets and skins, and new trinkets.

Survival, Adventure, and Hardcore Mode Updates: New threats emerge in Survival Mode and Adventure Mode, as monsters, dungeons, and bosses from Reisum are added to the rotation – while Survival Mode and Hardcore Mode receive a suite of new rewards.