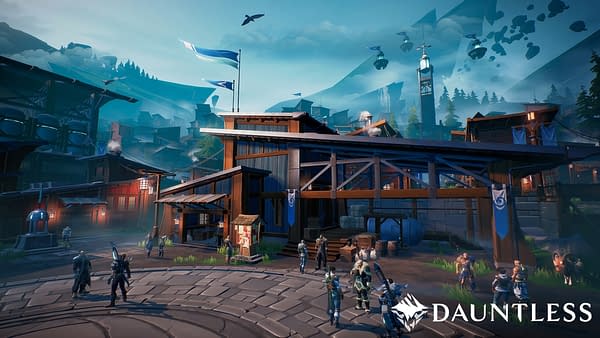 Today, Phoenix Labs — an independent game development studio made up of industry veterans from Riot Games, BioWare, and Capcom — launched Dauntless into Open Beta on PC worldwide. Dauntless is an online co-op action RPG built upon a living, breathing world that will continue to be updated throughout its life cycle. Starting today, the game is free to play, so anyone wanting in on the monster slaying action can sign up for the Open Beta test here.
In Dauntless, players take up the mantle of Slayers. These brave warriors fight for humanity's survival against ferocious beasts known as Behemoths, whose savage hunger to drain the very essence, or aether, from the world puts every life at risk. Equipped with powerful armor and weapons, Slayers will join up with others and adventure across the Shattered Isles to battle Behemoths together. And back in the frontier city of Ramsgate, players can craft, enhance and customize their arsenal to take on the next challenging encounter.
The team at Phoenix Labs is committed to building Dauntless as an evolving experience. Expect new expansions, adventures, deadly Behemoths and more — all on a regular basis and all free to play. So, it's going to have a pretty solid lifecycle as a live game — much like you'd expect of an MMO. Just don't call Dauntless an MMO. It's more of a hybrid system like you get in Destiny.
"Open Beta is an exciting next step for us, but it is just the beginning for what we have planned for Dauntless," said Jesse Houston, CEO and co-founder of Phoenix Labs. "For the past four years we've been dedicated to creating the next, great online game for players to share together, and Open Beta is the next huge step in fulfilling our promise. We will be continually adding content and updates to Dauntless and incorporating feedback from our passionate community. We are committed to providing more and more reasons for players to come back to Dauntless for years to come."
Slayers will also have a chance to experience the game's Evergame content, which offers a number of challenges and activities for players who complete the main campaign. From fiendish Dire Behemoths and heroic difficulties, to unique hunt modifiers encouraging Slayers to adapt their strategies, the Evergame offers a multitude of challenges and promises powerful rewards (including Exotic gear) for those who take on the challenge.
The game's Open Beta phase does not have a concrete end date as of yet, so you'll have quite a bit of time to enjoy hunting Behemoths and crafting some kickass gear in Ramsgate. For an idea on what to expect in the game, you can check out our hands on demo of the game back at PAX East.
The Open Beta trailer is below.
Enjoyed this article? Share it!