Pokémon TCG Early Opening: Crown Zenith Pikachu VMAX Collection
Pokémon TCG Early Opening: Crown Zenith Pikachu VMAX Collection will be released in mid-February for a second wave of special products.
---
Today, we have a very special Pokémon TCG series of openings here at Bleeding Cool. The Pokémon International has provided an early look at products from the new special set Crown Zenith which had a few, but not all, of its products come out. The art-themed Crown Zenith closes out the Sword & Shield era with a bang, as the Scarlet & Violet series block will launch in March 2023. Crown Zenith introduces two new card types: Illustrator Rares and Special Illustrator Rares, called Art Rares and Special Art Rares in Japan. Illustrator Rares are much like Illustrator Rares, but they do not show Pokémon with Trainers, rather showing them in their environments or sometimes even interacting with other species in interesting ways. Special Illustrator Rares are like Alternate Arts, combining the idea of Illustrator Rares with mechanics like V, VMAX, and VSTAR. These cards make Crown Zenith one of the most beautiful art-driven sets of all time… so I couldn't be more excited to start opening and showing you all the cards. This time, we get to get an early look at Crown Zenith Pikachu VMAX Collection which comes out February 17th, 2023.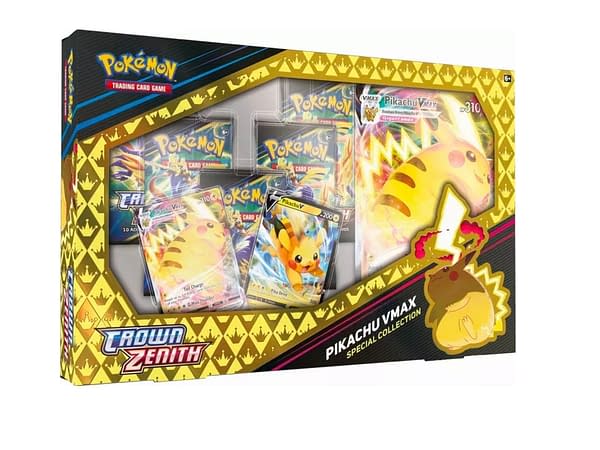 Here's what you get in the Crown Zenith Pikachu VMAX Collection:
Five packs of Crown Zenith
SWSH Black Star Promo cards: Pikachu V, Pikachu VMAX
One oversized Pikachu VMAX card
Code cards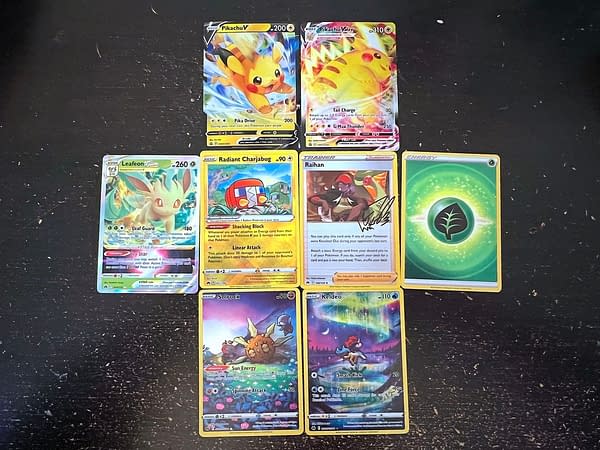 My pulls included…
Main set pulls:

Leafeon VSTAR
Radiant Charjabug
Raihan Signature Holo
Reverse Holo Leaf Energy

Galarian Gallery pulls:

Two Illustrator Rares: Solrock, Keldeo
Based on how many packs I've opened and how few Leafeon I've pulled from any section of the set, I'm actually super happy to pull the Leafeon VSTAR. Even more so than the Illustrator Rares. To me, though, the SWSH Black Star Promos are the main draw of this box, as I'd otherwise want more bang for my buck from the Elite Trainer Box.
Take a look at the beautiful texturing of the Pikachu VMAX. I'll certainly miss this card type.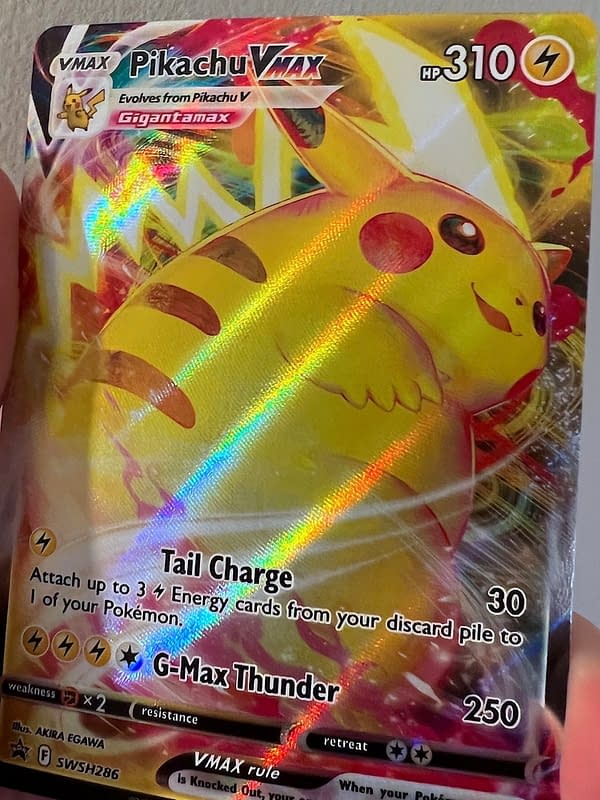 Beautiful!
You can get the currently released Pokémon TCG: Crown Zenith products here.