Pokémon TCG Japan: Triplet Beat Preview: Dedenne Tera Ex Full Art
One of the most interesting cards in the newly released Pokémon TCG Japan set Triplet Beat is this Full Art Dedenne Tera ex.
---
The first subset of the Scarlet & Violet era is arriving March 10th in Japan. The subset, Triplet Beat, will largely focus on the Paldean Starters Sprigatito, Fuecoco, and Quaxly. In this expansion, all three Starters will get Art Rares and their evolutions Meowscarada, Skeledirge, and Quaquaval will receive Pokémon ex. This set follows Pokémon TCG Japan's Scarlet ex and Violet ex which was released in January 2023, kicking off the new Paldea-themed series block that will presumably run for the next three years. Scarlet ex and Violet ex are the basis of the English-language set Scarlet & Violet base coming out internationally on March 31, 2023, so it follows that Triplet Beat will be in part the basis for Scarlet & Violet – Paldea Evolved, the second English-language expansion set of the Generation Nine era which will release on June 30, 2023. The Pokémon ex mechanic, the main mechanic of this new era, continues in Triplet Beat. Today, let's take a look at another card from the Secret Rare section from Triplet Beat.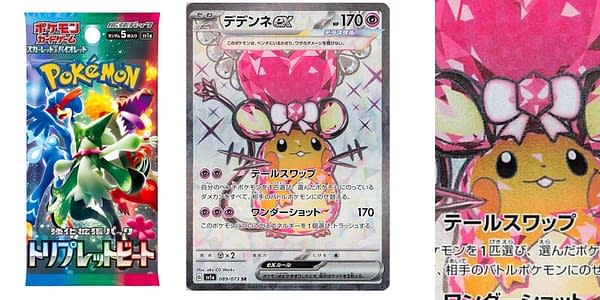 The third Tera ex Full Art arrives in the Pokémon TCG following Scarlet ex's Gyarados and Violet ex's Arcanine. This card style breaks from the normal Full Arts of the Scarlet & Violet era which feature the Pokémon rendered in green line art over a colorful background design. Instead, these feature a silver background with sparkles and line art that matches the color of the Pokémon's Tera type. Dedenne's Tera type is Fairy here which leads to pink sparkles and line art but note that the Pokémon TCG still groups Fairy-types in with Psychics. This card is illustrated by aky CG Works.
Japanese sets often give us early ideas of what the English-language sets may include, so be sure to keep an eye on our coverage. You can stay tuned for previews of Scarlet & Violet cards as well as updates on everything Pokémon TCG right here at Bleeding Cool.