Pokémon Trading Card Game Artist Spotlight: Teeziro
Pokémon Trading Card Game Artist Spotlight: Teeziro contributed a Charizard illustration to a contest and is now a fixture of the hobby.
---
Throughout the years, the Pokémon Trading Card Game has featured a variety of incredible art styles. Now that the hobby has been around for more than a quarter of a century, we have seen the artwork of Pokémon TCG cards elevated by daring new artist choices as well as illustrators who have been veteran contributors since the very first releases. Let's take a journey through the eye-popping, mind-expanding history of Pokémon TCG artwork by exploring some of the hobby's most interesting and unique artists. Today, we will spotlight Teeziro.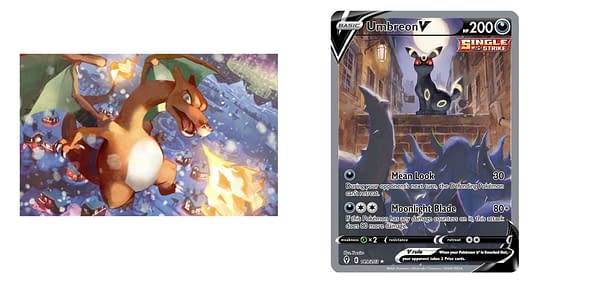 Teeziro is relatively new to the Pokémon TCG compared to some of our previous spotlights. Teeziro's first official credit was in Sword & Shield – Chilling Reign, but it is actually the above Charizard art that initially got this artist noticed. Teeziro submitted this Charizard illustration, depicting the iconic Fire-type Pokémon flying over a wintry village, as part of the 2019 Pokémon TCG Illustration Grand Prix. Though Teeziro did not win, they went on to become a major contributor during the Sword & Shield era.
Teeziro is responsible for quite a few notable memorable cards, including chase cards. After contributing an Aggron, Lycanroc, and Golurk to Sword & Shield – Chilling Reign, Teeziro delivered the iconic Umbreon V Alternate Art in Sword & Shield – Evolving Skies where Umbreon looks over other creepy Pokémon in an alley as a King of the Dark-types. In the very next set, Sword & Shield – Fusion Strike, Teeziro illustrated yet another major Alternate Art in Celebi V.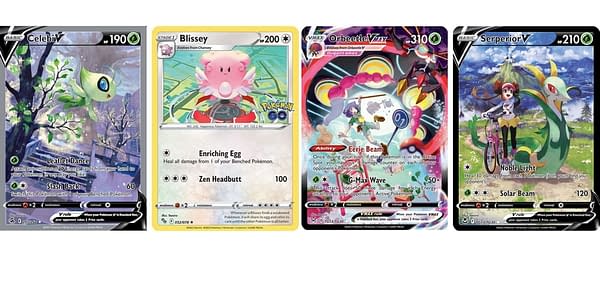 Teeziro remained active through the rest of the Sword & Shield era, with notable cards being the holographic Blissey in Pokémon GO, Obeetle VMAX Character Super Rare in Sword & Shield – Lost Origin, and Serperior V in Sword & Shield – Silver Tempest. It appears that Teeziro will continue working with the TCG into the Scarlet & Violet era, as Japan has them credited with Lechonk's first appearance in the card game as well as a Skwovet Illustration Rare in the first two sets of this new generation. I'm happy to see more Teeziro, as this artist does well blending a slightly painterly style with the vibrant depiction of Pokémon in the anime.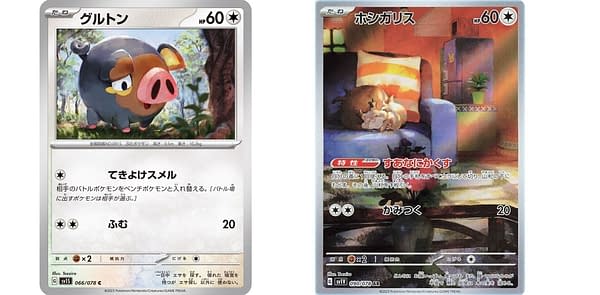 Be sure to check Bleeding Cool every day to follow our in-depth Pokémon TCG coverage as we explore the hobby's past, present, and even future with upcoming set reveals.