Ravenscourt Gives Siege Survival: Gloria Victis A Release Date
Ravenscourt and developer Black Eye Games revealed they have set a release date for Siege Survival: Gloria Victis. The strategy RPG title will have you in the middle of a medieval city under siege with a small group of civilians keeping things together as you'll deal with resource management, crafting supplies, maintaining a camp, and scavenging an occupied city to supply the remaining troops. The game is now set to be released on May 18th, 2021 on PC through Steam, GOG, and the Epic Games Store. You can read more about it below as we wait to see more from it in some proper trailers of the finish product.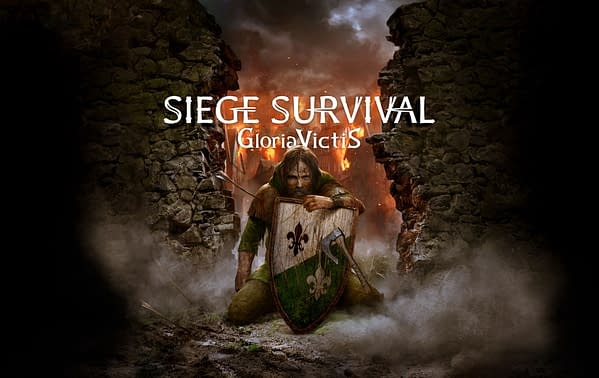 In Siege Survival: Gloria Victis your country has been invaded by ferocious warriors from the north and your city is now under a brutal siege. In your hands lies the fate of a small group of civilians who are trapped in the last remaining stronghold and are hanging on for dear life. Although you don't participate in the fighting directly, their survival and that of the entire city is left to you as they try to support and supply the remaining soldiers who defend the walls on what little resources you can manage. All this is woven into a grim narrative with numerous moral dilemmas forcing the player to regularly make tough decisions as they scavenge the city of Edring and desperately try to save it and themselves from impending doom. Sustain the troops or keep the civilians alive? Only the player can decide.

Crafting & resource management: You need better weapons, a roof over your head, hot food and all the other trappings that just existing entail – and the only way you'll get these is if you and your team craft them. But resources are scarce, and you'll need to manage them wisely to make it through in one piece.
Scavenging: Venturing out from the safety of your keep, you have to explore the ransacked city at night to collect raw materials, abandoned goods and weapons that you need to survive and hold out long enough for the reinforcements to arrive. Unlock new routes to various districts of the city, recruit more survivors and avoid enemy soldiers patrolling at night. If you don't make it back by dawn, you're as good as dead.
Surviving the siege: Defending what's left of your city are a few tired troops in dire need of arrows, weapons and armor, along with treatment for the wounded. You need to keep this squad supplied and supported in every way possible ahead of their battles every few days, otherwise the enemy will storm the keep.