[rwp-review-recap id="0"]
Fire Pro Wrestling is one of the best wrestling video game franchises many of you are not familiar with. Hardcore wrestling gamers know this series as one of the best customization and truly authentic-feeling titles since WWF No Mercy was released in 2000. The big selling point is that you have the ability to create practically any wrestling in existence with a move set that matches what they do. It's been almost a decade since we've seen a proper title from Spike Chunsoft, but last week we got what may be their best versions yet with Fire Pro Wrestling World. Fire Pro Wrestling World puts you in game's wrestling organization called the SWA with a cavalcade of fighters that will teach you moves and help you learn how to become a professional wrestler. As you make your way through the challenges and learn how the mechanics operate, you'll quickly pick up how to compete in a match and pull off everything from submissions to power moves to top-rope maneuvers. This is the same engine as they used in Fire Pro Wrestling Returns from 2007 with some minor tweaks, so if you enjoyed that game, you'll fit right at home here. This isn't your regular button masher nor is it your super complicated system of combinations—this game relies on timing and a bit of strategy. It can take a lot of effort for people who aren't used to the system to get used to, but once you get it down, you can become one of the best fighters in the game pretty easily. If you've never played an FPW title before, there are tutorials that can teach you and get you into the groove quickly. But you have a lot of different things to deal with including how your opponents fight, your stamina as you will get tired and hurt throughout the match, managing your time outside the ring if you do get out there, dealing with interference from managers and other opponents, The system has been finely tuned over the years and makes for some gnarly fighting styles to clash when they're put up against each other, but they flow pretty well when you figure out the best way to utilize your characters. The game has a variety of matches you get involved with as you strive to improve your skills. You can fight in everything under the sun! Regular matches, tag team, submission, cage, death match, SWA Rules (ECW rules), landmine, gruesome (which is an MMA match), tournaments, battle royal, barbed wire, exploding barbed wire, etc. All in the name of entertaining the crowd and making everyone go home happy, along with crowning yourself a champion.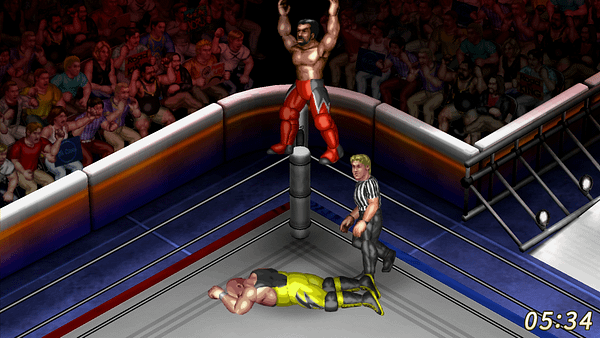 Speaking of championships, the biggest element to Fire Pro Wrestling as a series is the ability to create everything. You can make your own championships and fight over them, redesign the ring to look how you wish, make a referee, and of course, create a wrestler. Now here's where the series really shines as you can create anyone. And by anyone, WE MEAN ANYONE! There's a massive set of moves that will literally enable you to create any kind of wrestler you want, from a completely unique design of your own creation to your personal real-world favorite. If you wish to sit down and create your own version of CM Punk, you can design his tights, his body structure, his face and haircut, his moves, his entrance, his finisher… just everything you could want shy of a real entrance video. Another great bonus to Fire Pro Wrestling World being on Steam is that it's connected to the workshop, meaning that you can share your designs online and download other people's designs. Right now, as I write this, there are 203 pages worth of created wrestlers from multiple eras of wrestling. From Lou Thez to Buddy Rogers, Hulk Hogan to Ric Flair, Stone Cold to The Rock, all the way to AJ Styles and Kenny Omega. If you got the space on your computer, you can download hundreds of characters and have your own fantasy fights made by people with a passion for the industry and the legacy across multiple promotions. It may be too soon to call it until we see what WWE have up their sleeves this year, but right now, Fire Pro Wrestling World is the best wrestling game of the year in our opinion. There's very little to complain about here, other than the fact that the arenas and titles could use a lot more options for their designs, as well as more room to name them. This was a wonderful throwback for me as this series was one of the few I sought after in the genre once I saw the capabilities. To see it return in this fashion with online modes that enhance the game is a wonderful thing. [rwp-review-ratings id="0"]
[rwp-review-form id="0"]
Enjoyed this article? Share it!