Hello once again, loyal readers! Do you ever have that feeling after you've cleaned your room, that impending sense of dread that something is amiss… And then you take a good whiff of the room and it just smells like rot? And then, naturally, you scour the room for anything fetid and find a banana peel from about two months ago?
Well, today we are covering more Nurgle goodness for Warhammer: Age of Sigmar. Not that the game or any part of it is actually rotten, but Nurgle has a tendency to be slow-moving, and as such the presence of Nurgle can be felt for a good while after he leaves.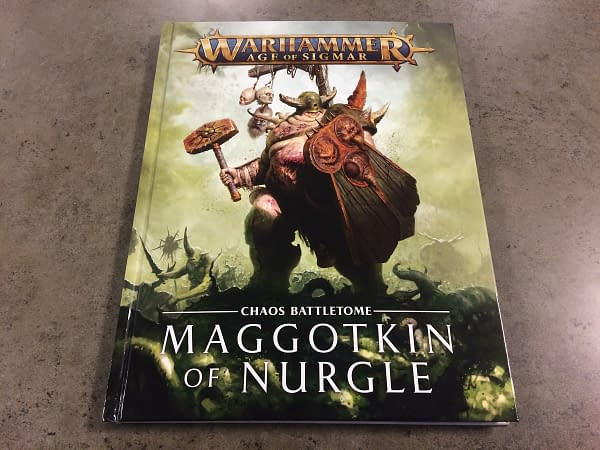 At any rate, we will be looking at the Battletome for the Maggotkin of Nurgle today. This 104-page compendium of many things Nurgle is an absolutely fantastic way to get yourself acquainted with the disgusting, wretched abominations of the God of Life, Death, and Decay (all of which I'm firmly convinced that Grandpapa Nurgle happens to be).
Note that the book does not cover the stat blocks for units in games of Warhammer 40,000, although that's easily findable in the Codexes of said grimdark-futuristic game. Anyhow, moving on!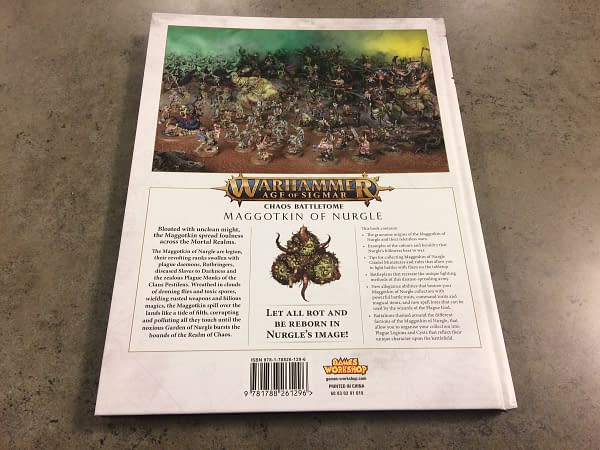 The Maggotkin of Nurgle are very easy to consider as monstrosities; people are deathly afraid of change, sure, but people are also afraid of the nature of entropy itself, a trait of the very decay which Nurgle and his children seem to revel in. However, as I'd mentioned above, Nurgle is not a god solely of death or decay, but of the primordial creation of life! The only issue this is seen as abberant by the typical person is that Nurgle's creations are truly formed of the rot and sludge of death, no matter how lively they are. All of this can be better elaborated upon by reading the lore within the Battletome, to be sure.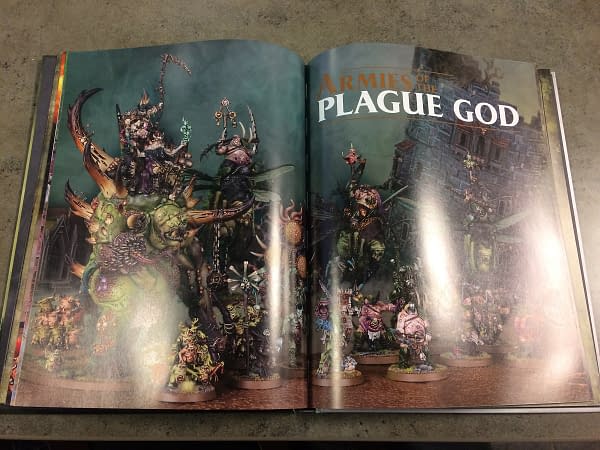 And the Battletome isn't all lore, stat blocks, spells, and pretty dioramas of what I'd love to call "Better Homes and Gardens" but probably can't due to that magazine's propensity to potentially sue me for slander if I do. No, no, the Battletome also has great tips for the hobbyist fans of Nurgle as well (much like Better Homes and Gardens magazine has for home decor!). You can learn how best to paint your Plaguebearers, Blightkings, and basically anything else that rots and isn't undead!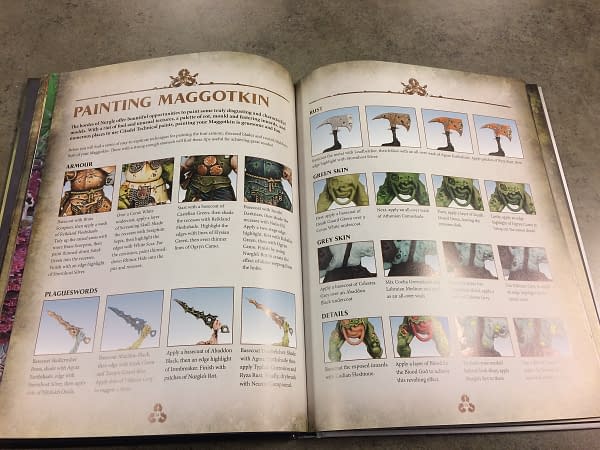 If you were looking for a bit more information on the Battletome for the Maggotkin of Nurgle, you can also find more on it by looking into the Warhammer Community page's article on its release from back in 2017. But honestly, I'm such a fan of this book that I suggest picking it up for yourself if you like the Nurgle aesthetic within Age of Sigmar. It's a great game and Grandpapa Nurgle has a great army. Go forth and spread the filth!
Enjoyed this article? Share it!