Review: The Legend of Zelda: Breath of the Wild—Creating a Champion
The latest and probably last Zelda extended tome to be released by Dark Horse Books was The Legend of Zelda: Breath of the Wild—Creating a Champion. The company has already done a fantastic job in creating three volumes that go over pretty much everything you need to know about the series in detail. From the original NES all the way to Skyward Sword. And they did it in three books that covered the history of the series, the arts and artifacts, and even a complete encyclopedia. But all of these books had one slight oversight that Dark Horse couldn't do anything about: They were making Breath of the Wild at the time they were being produced. So to compensate for what was missing, a fourth white-covered book was made, which we're reviewing for you here.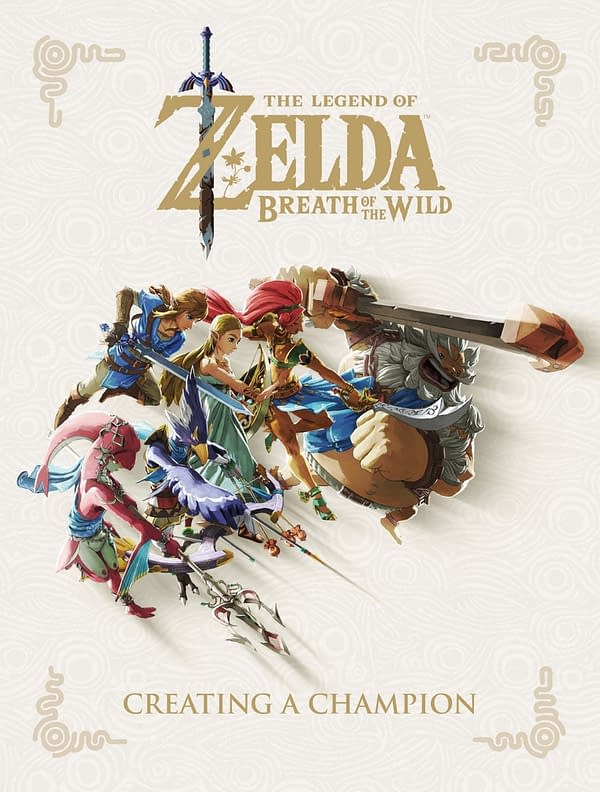 So let's go over real quick what this book is and what is it not. The book contains a lot of content focused on the artwork and development of the game from the standpoint of creating an entirely new entry in the series that is nothing like what it was before. A good example of this is the image you see below, where they talk about the art they created for Weekly Famitsu, showing a "passing of the torch", if you will, from the Link we knew of old to the one we know in Breath of the Wild. You are essentially getting insight from Nintendo's creative minds as to why they chose to do the things that they did for this game, which is one of the rarest things you'll ever get out of the company in your life.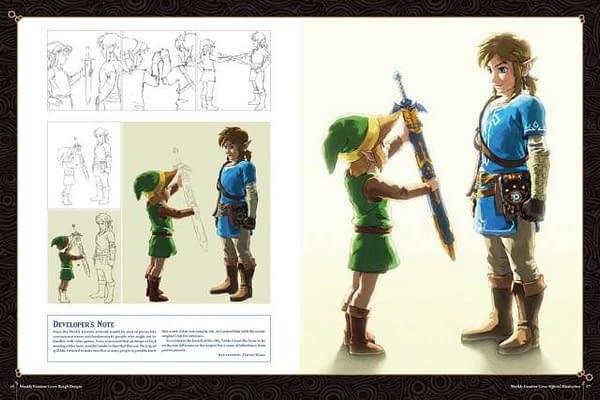 There's a good chunk of seeing how characters came about and their role in the game as far as design and functionality. Take this look at Zelda, for instance. You're given a look at her look as they made her less of a maiden in robes and more of a fighter ready for whatever may come. They even go into detail over the choice of gloves, her armor, the way she wears her hair. It's cool to see these kinds of details come out about all of the main characters in the game, from the champions all the way down to how Calamity Ganon was represented. What's more, many of the Developers' Notes go into the psychology behind creating the NPC's and the role they play in this massive landscape of Hyrule.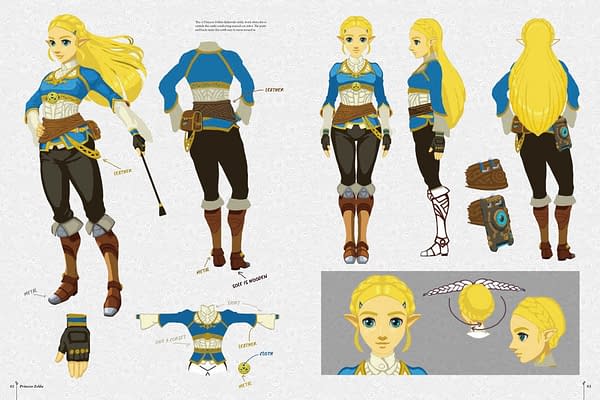 Creating a Champion also delves into the dungeon design and what made them choose how they look. The decision to make the Devine Beasts look the way they look was not always set in stone, as you see variations on them ranging from a crab, a manta ray, even a dinosaur with a crane hook on its tail. You go in-depth on how they were created and how the designs work on them, such as the actual mechanics behind making the Beast of Vah Ruta arch his trunk to push water into certain areas of its back. You get a detailed examination of the towers and how they are designed to create challenges at different levels of strength and stamina. Even a glimpse of how Central Hyrule came to be on the plateau.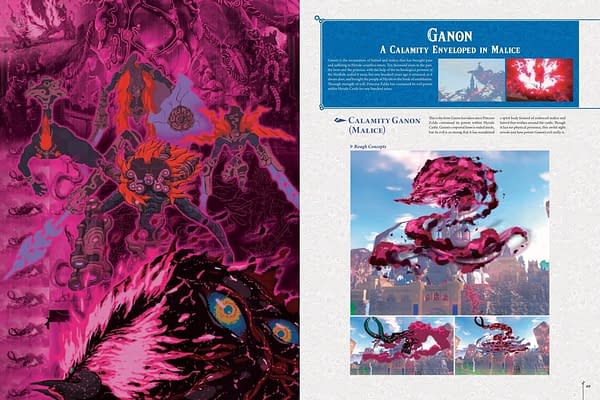 There's a lot of nooks and crannies that this book manages to cover in all 425 pages. There is a stunning amount of detail given out by Nintendo as to the way this entire world was presented. There are subtle choices between concept and the final product that you can see fleshed out, that if special time and care wasn't taken into making look as good as it does, it would have been a black mark on the series. The Legend of Zelda has plenty of memorable moments for fans of all ages that are burned into our memories for life, even the occasional glitch and weird text are things we hold onto for years. This book shows you everything these people went into over the course of a few years to make sure everything in the game came out looking its best.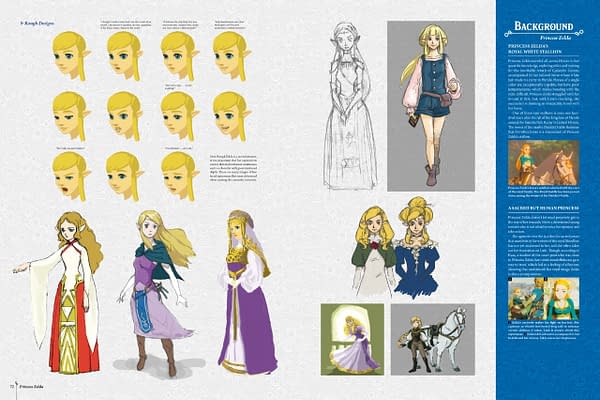 The one major takeaway that should be noted to fans looking for some hints is that this is not a game guide. Sure, they deconstruct a lot of things in this book and show you how it was all made, but it in no way shows you how to beat the game. Everything that you'll run into here is there for you to find, but it will do you no good to buy the book just to study it as a cheat sheet. If you are that kind of gamer, then here is what you will get out of it: You'll learn about everything, as if someone wrote a travel brochure for Hyrule. Beyond that, there's little to learn about how the game can be conquered. Oh, and there is a history lesson on everything from 100 years ago until now in the game, and how it affected everyone, which should give you a clue into what you need to do with different races and creatures.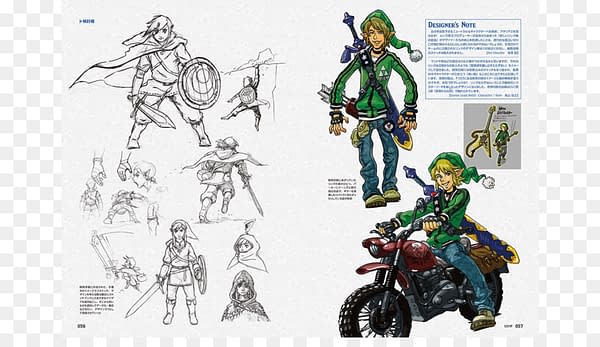 The Legend of Zelda: Breath of the Wild—Creating a Champion is an amazing end book to what is probably one of the best series of hardcover books Dark Horse has produced. Nintendo basically gave these guys a key to the vault on one of the most popular Zelda games of all time and published it about a year and a half after the game came out. If you have the other books in the series or are a mega fan of Breath of the Wild, this is a must-own. But keep in mind, this is a book about discovery and learning everything about the game and where it came from. There's a lot of knowledge here for avid gamers, especially those who would like insight into how a game comes together on an aesthetic level.