RPGing To The Beat: We Review 'Metronomicon: Slay The Dance Floor'
[rwp-review-recap id="0"]
I've spoken in reviews before about Crypt Of The NecroDancer from Brace Yourself Games, as the game utilized rhythm elements to form a unique dungeon crawler that was both thrilling and entertaining. So when I saw Metronomicon: Slay The Dance Floor debut their trailer a few months ago, I was instantly reminded of the formula, but became intrigued by the idea that they were incorporating it into an RPG. But can this game capture the magic of the other with a different genre or it is simply a clone? We downloaded the game to PS4 and gave it a fair shot.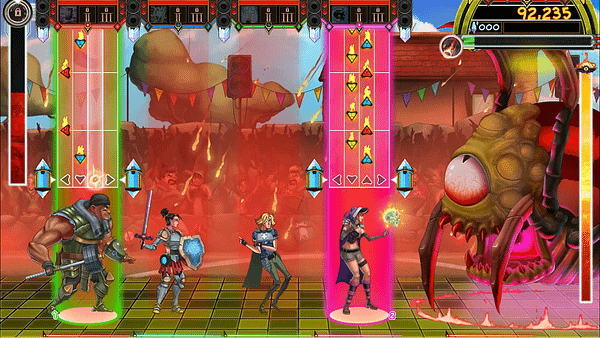 Metronomicon: Slay The Dance Floor is side-scrolling RPG that uses story and fighting mechanics from other titles and meshes them with a semi-modern look and a rhythm-based sequence. The game utilizes a control setup where you can use a regular controller or you can hook up a rhythm device like the guitars from Guitar Hero or Rock Band. The story puts four fighters who basically graduated the mythical version of college on the road to adventure when they discover there's an evil in the world that needs to be taken out. Sadly, the story doesn't go into a lot of depth, as it feels like a post-college spring break scenario and is done more for laughs than an actual adventure. The game works by setting up a four character battle against an enemy, which you can switch between your fighters at any time. A four-bar music sheet will show up above whatever character you're in control of and, by pressing the correct buttons in the order required, you can pull off each of their moves to deal damage, cast spells and heal other players. There are other options depending on who you take into battle and how you equip them, which leads to better combinations and fight sequences. More characters will come along to join the party and you can swap out who you like the best ala Final Fantasy style. Every character has three tiers of moves, which you'll need to unlock with experience in order to move on with their progression and get better hits throughout the battle. If you complete the first tier of moves for a character, you can then progress to the next one, which is harder to play but does more damage. Each character also has a different class ranging from fighter to wizard to healer and so on. The biggest hurdle you'll have to deal with by far is the music as the beats change pace throughout the game and it requires a good amount of attention and rhythm to get through the battles. If you have decent coordination and an ear for patterns, you'll do fine. Boss battles and random side quests will probably be the bane of your existence as they operate slightly different from standard battles. Boss battles will change the beat frequently and can throw you back down to the first tier of moves quickly, prolonging the battle and making it dreadfully impossible at times. The random encounters rely more on challenging your skills at specific tasks—I discovered in one battle that I needed to heal my teammates up for a certain amount of health or fail the challenge, and that was no easy feat as the challenges employ the same tactics as boss battles. As you progress you'll be able to fix up your characters how you see fit and make their attributes work toward your advantage. The key to staying alive is taking on battles and unlocking new weapons, armor, and abilities; for without them, you are screwed early on. The one thing I wish could have been changed was the music style as this is mostly EBM. I could have used some rock or hip hop in the mix just to change things up and give me variety throughout the game, but instead, I feel like I'm in a fight scene in a techno club. Metronomicon: Slay The Dance Floor is an okay game, but it could have been much more. The design of the game becomes tedious after a bit as you deal with re-skins and recolored backgrounds, and the story just doesn't have the depth I would expect from an RPG. I wouldn't call this a bad game as I had a lot of fun with it, but it does feel more like a game of lost potential. If you love rhythm or music based games, this should be up your alley, but I caution RPG fans that you may become bored with it after a couple hours.
[rwp-review-ratings id="0"]
[rwp-review-form id="0"]