Dwayne "The Rock" Johnson Joins The Ultimate Rivals Roster
Bit Fry Games Studio announced another WWE superstar will be joining the roster of Ultimate Rivals as we're getting The Rock. Dwayne Johnson will be the fifth superstar to join the game, and the first legend as the other four are current WWE talent with Roman Reigns, Becky Lynch, Bayley, and Sasha Banks. The game is still in development so we have nothing to show beyond the character mock-up design you see below. But it will fun showing off the most electrifying man in entertainment today as he faces off against superstars from multiple sports in an NBA Jam-like environment.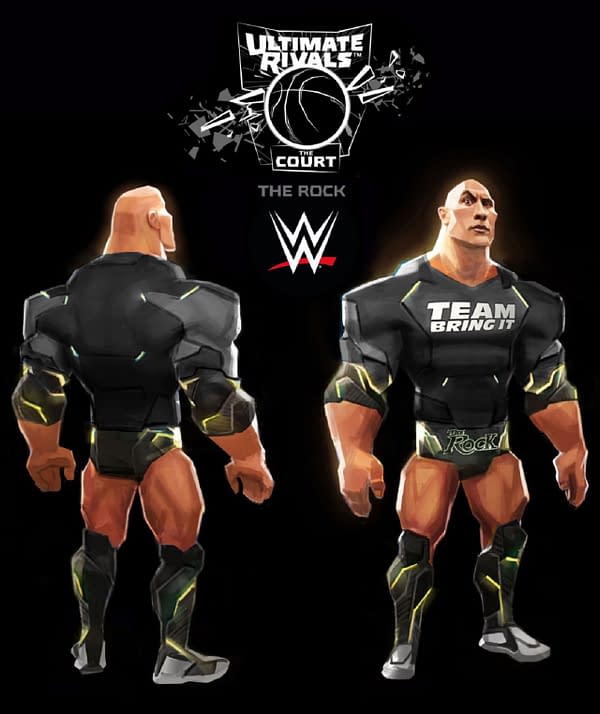 Set in a digital world of the near future, Ultimate Rivals: The Court is the first basketball experience to gives fans the ability to play as their favorite athletes wherever and however they choose. Play 3-on-3 arcade action basketball with tons of above-the-rim acrobatics! Choose your team, lace up your kicks, and then pass, block, shoot, and score in ways you've always imagined. 60+ superstars (including Legendary Athletes) from across the sports world create ultimate rosters: Team up your favorite athletes from the NHL, NBA, WNBA, NFL, MLB, and US Women's National Soccer Team to create powerhouse squads. Choose wisely to combine their playing styles and maximize their impact on the hardwood! Sports-themed Ultimate moves: Trigger "Fury Ball", "Bat Breaker" and other devastating moves that provide powerful advantages over your opponent.

Air play: Rim-rattling dunks, thunderous alley-oops, and in-your-face blocks keep the game played above the rim!
Fast-break buckets: ankle-breaking cross-overs lead to slick passes that get your team out on the break for easy buckets!
Short-session games and intuitive controls make The Court easy to pick up and play but with deep levels of strategy to explore!
Try out the all-new "Gauntlet" arcade mode – play through bracketed tourneys to quickly unlock more athletes!
3 breathtaking environments to battle in!
Unlock athletes from all sports to craft your team as you play!
Includes support for PlayStation DualShock 4, Xbox Wireless, and MFi controllers.