Posted in: Games, Kabam, Marvel Contest Of Champions, Mobile Games | Tagged: Kabam, marvel, Marvel Contest of Champions, spider-man
---
Sandman & The Shocker Arrive In Marvel Contest Of Champions
Two of Spider-Man's greatest foes, Sandman and The Shocker, are coming to Marvel Contest Of Champions shortly.
---
Marvel Contest Of Champions has revealed a new update coming to the game as the Spiderverse is opening up and two new villains arrive. The game will be adding Sandman and The Shocker as new villains to add to your roster, both of whom come with some formidable powers that will definitely impact your chances. You can read more about their addition to the game in the latest patch notes, as we have some of them below about both of them and the next chapter coming to the game.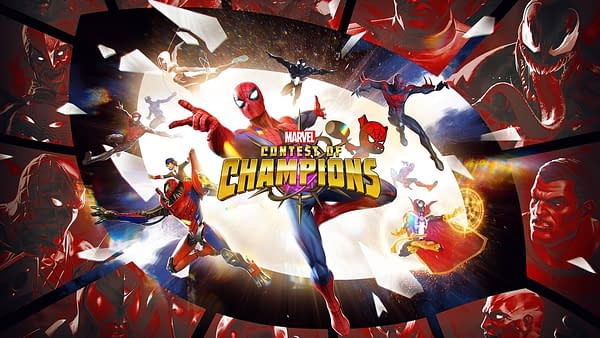 The Shocker & Sandman
"Once a petty criminal known as William Baker (a.k.a. Flint Marko), Sandman is a stalwart member of the Sinister Six and one of Spider-Man's longest-standing enemies. While on the run from the law, Baker was accidentally exposed to experimental radiation that destabilized his molecular makeup. Now, as the Sandman, he is capable of incredible acts of strength, can grow to massive sizes, and even shapeshift. He might not be the brightest of Spider-Man's enemies, but he's certainly the most imposing… as long as he can pull himself together."
"A gifted engineer turned expert safecracker, Herman Schultz was just a small-time criminal until he was captured and incarcerated. While tinkering in the prison workshop, he managed to construct a pair of gauntlets capable of firing compressed air as destructive shockwaves. Adopting the title of the "Shocker" and blasting his way out of prison, Shocker's criminal exploits have since been a constant thorn in the side of his nemesis, Spider-Man. Things don't always go his way, but no one can fault Shocker's stubborn tenacity."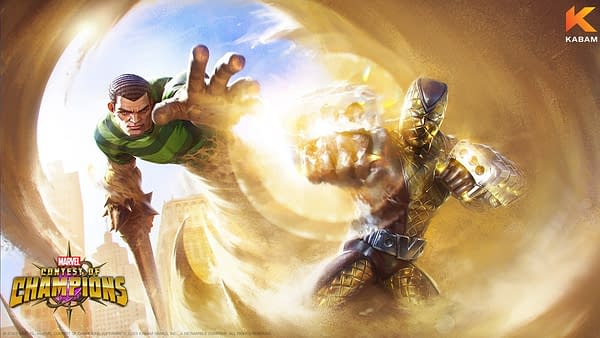 Marvel Contest Of Champions: Act 8, Chapter 2 – The Radiance
Act 8, Chapter 2 opens with Carina interrogating Scytalis, Chapter 1's trap-wielding Final Boss, in the hopes of learning more about her mysterious new foes OUROBOROS. When the infamous assassin only manages to raise more questions, Carina must once more head out into The Battlerealm to hunt for clues and uncover the true intentions of her enemies. Her search will lead The Summoner right to the doorstep of a new threat! Face this brand-new Marvel Contest Of Champions villain and find out!
---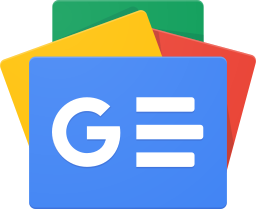 Stay up-to-date and support the site by following Bleeding Cool on Google News today!