Sea Of Thieves Officially Launches Season Two
Get ready to hoist the anchor and set sail into the ocean for Season Two has been officially launched into Sea Of Thieves today. Season Two comes with 100 new levels for you to increase your rank to, along with the chance to be an Emissary for the trading company, brand new difficult forts to get treasure in, a new pirate emporium, cosmetics, new game events, and more. You can read the full patch notes here as we have a note from the devs as posted on Xbox Wire below, along with the trailer.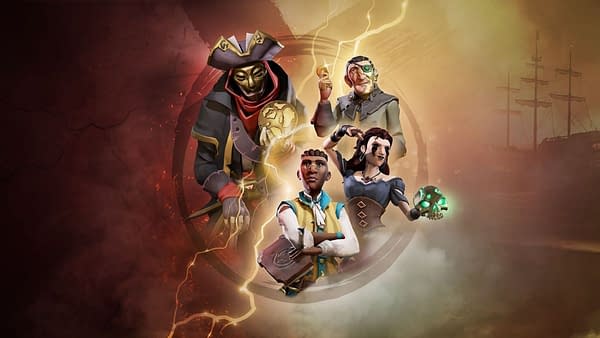 The Forts of Fortune have arrived, marked by an ominous new form of Skull Cloud looming in the skies over the Sea Of Thieves. These encounters provide an even more rigorous challenge than other Skeleton Forts, with extra explosive potential and ever fiercer foes as the waves of resistance keep coming. Guaranteed Athena's Treasures and other high-level loot await any crews who can conquer this gauntlet. If you fancy your chances against the undead hordes, keep an eye (and ear) out for the tell-tale signs of this rare encounter emerging as you sail!

Should you prefer trade to battle, Season Two also brings in new Merchant Alliance Trade Routes. Emissaries can earn their fortune by buying Commodity Crates as cheaply as possible at Outposts, then selling them at another Outpost where those Commodities are highly sought-after. The Merchant Alliance now sell Resource Crates too, so stocking up on bananas, wooden planks and cannonballs has never been easier!

To attract more pirates to their cause, the Trading Companies are rolling out brand new rewards for those Emissaries who place highly in their Emissary Ledgers. Not an Emissary yet? They'll send out a Mysterious Note when you're eligible to purchase their Emissary Licence and set sail under their Flag.

All this along with Season Two's dramatic time-limited Event, Reapers vs. the World – pitting The Reaper's Bones against the other Trading Companies in an epic game of Emissary cat and mouse – and more Twitch Drops on the horizon from our Sea Of Thieves Partnered streamers!