One of the best items Microsoft made for the Xbox One over the past few years has to be the Xbox Adaptive Controller, simply for functionality. All throughout 2019, there were stories of people who could never play video games due to a physical or mental condition that simply prevented them from working a regular controller. But introducing this new system allowed them to take part in games the same way most of us do on a regular basis. The only thing holding it back a bit is that it's only for the Xbox. There isn't a version of this for the PS4 or the Nintendo Switch. But, one creative father found a way around that.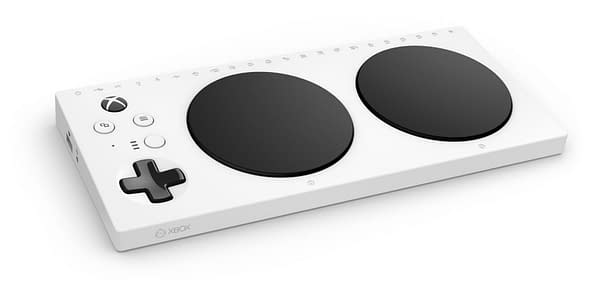 Rory Steel, head of the Digital Jersey Academy, shared a couple of tweets over the weekend showing off his extremely modded Xbox Adaptive Controller. With enough wires and attachments that look like an arcade cabinet exploded, he has made it possible to use the controller to play on a Nintendo Switch. And even included a video of his daughter playing The Legend Of Zelda: Breath Of The Wild. It's a nice little heart-warming video of knowledge and tech coming together to help out his kids. But with Nintendo and Microsoft on friendlier terms these days doing cross-platforming, we think this is the perfect video to show there's an audience for the two to come together and make a version for the Switch.
The #1 quality of a digital professional… Patience… Making inroads with the aid of coffee! The controller project is on target for this afternoon. #accessibility @Nintendo #switch @Microsoft #adaptiveController pic.twitter.com/U5z1xjzROe

— Rory Steel (@JerseyITGuy) January 19, 2020
Finished! Ava gives my homemade #accessibility controller V1.0 the thumbs up. She can play @Nintendo #BreathoftheWild on her #switch like her friends now. All thanks to @Microsoft 🙌 #adaptiveController #XAC @brycej @ArranDyslexia @shanselman pic.twitter.com/dOhGnUFZa0

— Rory Steel (@JerseyITGuy) January 19, 2020
Enjoyed this article? Share it!