Red Nose Day is coming up this week on May 23rd, and for D&D fans you're going to get a special game featuring Stephen Colbert and Critical Role. To be more specific, Matthew Mercer will be guiding Colbert through a mini one-on-one adventure in which people made donations to Red Nose Day and choose what Stephen has to work with. Everything from his character class, his companion, his legendary weapon to be sought, to the big bad villain he has to deal with.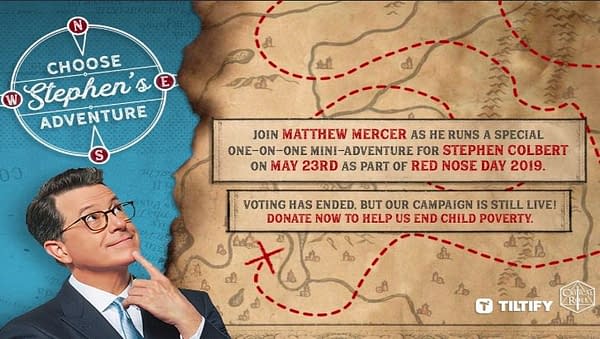 Voting has closed but you can still donate $20 to Red Nose Day at this link. The entire ordeal will be broadcast on Critical Role's YouTube channel on Thursday for the event and you can see what abstract insanity people booked for Matthew to somehow work with and for Stephen to brave his way through.
Enjoyed this article? Share it!