Summoners War fans will be please and also frightened to find out two new monsters to the game with Art Master and String Master. Com2uS revealed the details this week along with a trailer for both characters to show them off before they hit the game. You can read the notes from the devs on both characters along with the trailer, and you can see their stats at this link. As you'll see from the video, details of a brand-new update for the game are on the way. You will still be able to earn a String Master and level up her skills from an in-game event, which began back on May 22nd. If you're not already aware, by collecting 100 points, players can earn a String Master Summon Scroll which will allow them to summon their very own String Master.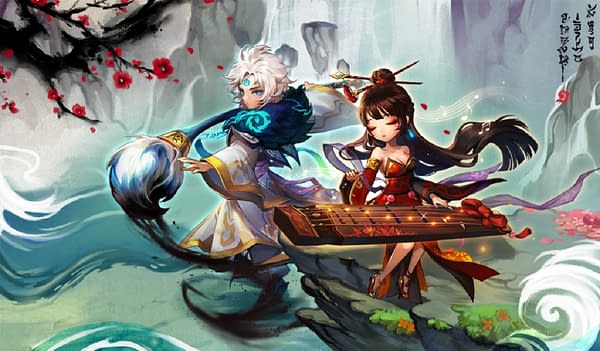 Joining the fray are the default 5★ Monster, Art Master, and the default 4★ Monster, String Master. These two Monsters are sure to captivate players with their Eastern designs, which feature elegant outfits and accessories. Art Master uses his giant brush to create graceful works of art that manifest as skills. Fire, Water, and Dark versions of him will be classified as Support, while his Wind and Light counterparts will be Attack. His passive skill "Mark of Brush Tip" allows him to reduce the Attack Bar of enemies at a 50% chance when he attacks. All versions of Art Master will be able to utilize this skill, and each attribute will also come with its own unique abilities. String Master is a support Monster who performs beautiful melodies using her stringed instrument. She comes with a skill that allows her to increase her Glancing Hit rate for 2 turns at a 50% chance when attacking enemies. Just like Art Master, all attributes of String Master will have this skill.
Enjoyed this article? Share it!