Bandai Namco released some additional details this week for the first DLC pack coming to Sword Art Online: Fatal Bullet, which has officially been called "Ambush of the Imposters" and will feature a new storyline. You can access the story once you reach the Forgotten Forest and run into three new characters (seen below) who are Yamikaze, Dyne, and Musketeer X. Here's a brief synopsis of the story.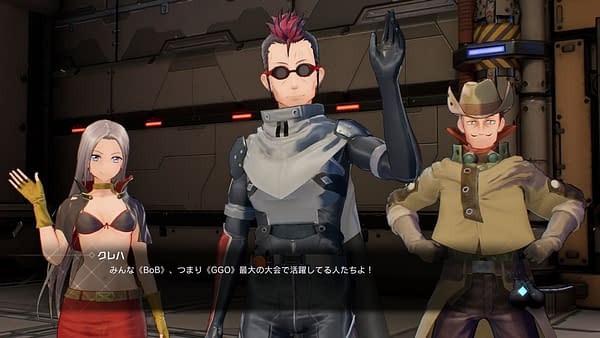 The time is before the assault on SBC Fleugel…

There has been a rumor circulating around that an ArFA-sys appears as enemy on a field. The protagonist, Kirito, and others followed the information and heads to the field. With cooperations from Yamikaze, Dyne, Musketeer X and others, they reached the destination, but what they see there is… something that awakens another story of yours.
The short version to this DLC is that it is basically one of the hardest missions you'll ever play in the game, with a lengthy dungeon and a new boss called Elemental Wizard waiting to take you out. The DLC will also include a new mode called Bullet of Bullets Simulation (BoBS) where you will fight as your avatar in offline mode in three 1-v-1 matches before a giant eight-person battle royale. (Yes, battle royale made it to a Bandai Namco game as well.) The DLC will drop for the game on April 26th.
Enjoyed this article? Share it!