Tekken 8 Releases Two New Videos Including Nina Williams Reveal
Get a better look a Nina Williams as she appears in Tekken 8, as well as more behind-the-scenes content from Bandai Namco.
---
Bandai Namco dropped two new videos this week for Tekken 8, showing off Nina Williams and going more in-depth about what's changing for this game. First off, Nina is looking mighty deadly in a new purple and black getup, as the silent assassin is back to inflict hard hits and deep cuts on her opponents. And when those don't do the trick, she's still armed to the teeth. We get nearly two minutes of gameplay featuring the longtime character and some of her new moves as she proves she's still got the skills to take out whoever stands before her. Meanwhile, the second video is basically a long developer video, as we get over 36 minutes of information on what new mechanics will be included. They talk about the new Rage system, the new Heat system, control styles, the Recovery gauge, and more. Enjoy both videos and info below!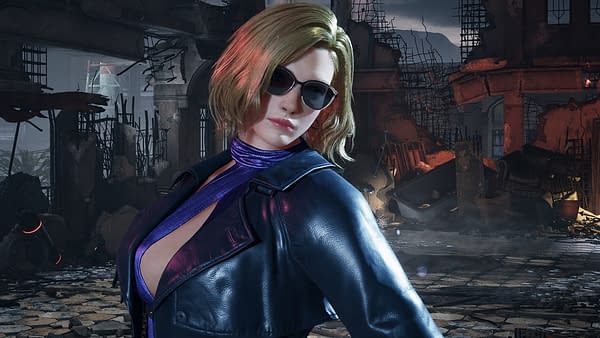 "Nina Williams is bringing back her smooth and deadly fighting style inspired by various martial arts. As a trained assassin, she's also armed with weapons to help defeat her foes in style. For Tekken 8, the development team has completely reworked Nina's character model for new-generation game platforms. Her moves and techniques are also enhanced, including introducing new abilities to fit with the philosophy of "aggressiveness" in the game's new combat system. Nina Williams joins previously announced characters in Tekken 8 that include Jin Kazama, Kazuya Mishima, Jun Kazama, Paul Phoenix, Marshall Law, King, Jack-8, and Lars Alexandersson."
"The Tekken 8 developer video features Katsuhiro Harada, executive director on Tekken Project, and Kohei Ikeda (Nakatsu), chief director on Tekken Project, as they detail the different elements that make up this "aggressive" gameplay philosophy. The video provides the deepest look yet at thrilling enhancements to the combat system which promise to add new depth, weight, and atmosphere to Tekken's signature battles."