TEPPEN Adds Felyne To The Roster For One Year Anniversary
GungHo Online Entertainment added a new character to their roster this week as Felyne from Monster Hunter comes to TEPPEN. The update had been teased for a while and it was pretty clear by all of the promos up until now that we were going to get a different kind of addition to the game that wouldn't be a life-altering character but more of a fun one. Here's what they had to say on the character's addition.
Join the Fifth Fleet's smallest but mightiest hunter the "Adventures of a Tiny Hero" as he joins his friends from the Capcom universe to fight their way through the monsters, traps and darkness that await them. This expansion is one for the history books! Not only will it introduce new beasts from the world of Monster Hunter, including Velkhana and Banbaro, but Felyne's Hero Art Coral Orchestra will be the first TEPPEN Hero ever to utilize tribes!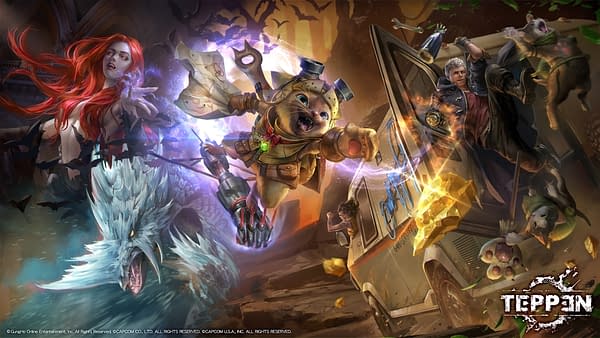 The character comes as both GungHo and Capcom celebrate the game's one-year anniversary as they have added in a bunch of new events and add-ons to the game to spice things up. The Anniversary festivities, which kick off next week on July 1st, will include login bonuses, special anniversary missions, and more to come throughout the next few weeks. The game has done well for itself, especially with the esports crowd, as it managed to nab a pretty decent following in the time its been around. COVID-19 slowed down some of the in-person stuff but the online play has still been rolling through. The devs have a lot to celebrate, and they probably picked the right character to do it with. Now we'll see where the game goes from here after being established for a year.