The Cards Of Pokémon TCG: Silver Tempest Part 48: Gold Pokémon
It will go down in history as a stunning snub that Serperior got the Gold VSTAR slot in Pokémon TCG: Silver Tempest & not Alolan Vulpix.
---
In November 2022, Pokémon TCG released the final main series set of the Sword & Shield era. The expansion, Sword & Shield – Silver Tempest, came out on September 9th, 2022. It is the twelfth set under the Sword & Shield banner, and it adapts the Japanese sets Incandescent Arcana and Paradigm Trigger, with its Trainer Gallery subset adapting cards from VMAX Climax. The Lugia-themed Sword & Shield – Silver Tempest also continues both Radiant Pokémon as well as the Trainer Gallery, a special subset of Character Rares, Character Super Rares, Full Art Trainers, and Black & Gold VMAXes that began in the first set of the year, Sword & Shield – Brilliant Stars. Follow me on a journey through this latest set as we appreciate the artwork, discuss the card's place in the set, and theorize as to what certain elements of the expansion may imply for the future of the Pokémon TCG. Today, we continue with the Secret Rare section of Sword & Shield – Silver Tempest.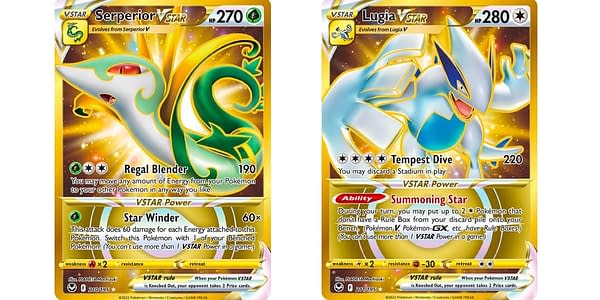 I said this when the Secret Rares of Japan's Incandescent Arcana came out, and I'll reiterate it now. The fact that Serperior VSTAR got a Gold Secret Rare and Alolan Vulpix VSTAR didn't is just about unforgivable! While I like Serperior just as much as any other Grass-type Starter final evolution, it's a shame that Alolan Vulpix, a creative and left-field set mascot, didn't get the same star treatment that Lugia did. It would've been great to see that balance of silvery white and gleaming gold on both an Alolan Vulpix Gold and the above Lugia VSTAR Gold, but alas… it was never meant to be.
Thankfully, the Pokémon TCG is solving the problem of unevolved Pokémon not getting star treatment with their Illustrator Rares in the Scarlet & Violet era. Now, anybody can get it.
Stay tuned for the continuing journey through this Lugia and Alolan Vulpix-themed set as we continue to spotlight the cards and artwork of Pokémon TCG: Sword & Shield – Silver Tempest. Next time, the spotlight continues with the Secret section of this expansion.