Tommy Wiseau Has A Portrait In "Animal Crossing: New Horizons"
Stop what you're doing right now and please just take a look at this. Tommy Wiseau, best known for The Room, is in Animal Crossing: New Horizons. Usually, when a celebrity of any sort plays a video game, there's the occasional buzz about it along with people asking for their profile to play. But fans are currently flocking to get a glimpse of this one picture Wiseau posted to his Twitter account, just to look at the weirdness of it all. First off, he's not playing the game, as far as we can tell. This seems like an upload from someone else's account, because the charatcer doesn't have sunglasses. Now, look in the background.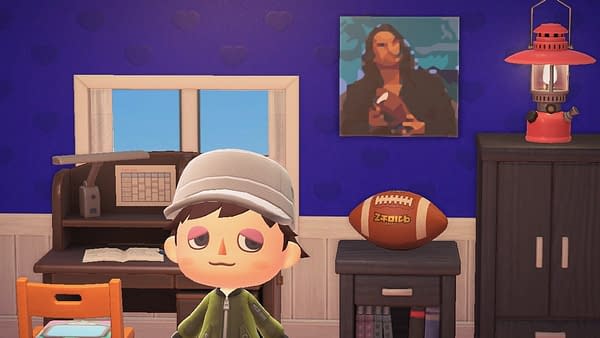 Yeah, someone went to the trouble of making a Tommy Wiseau portrait in pixel art to hang in their room. But not just any picture, its one of Tommy holding a football. And it sits above a football in this person's home. It's got people laughing, confused, and having their minds blown that someone went to the trouble to make it in Animal Crossing: New Horizons. The QR code for it has not been released yet, although a few people have duplicated it with different colors in the background. What do you think of the portrait? Would you like one? Are you as confused as we are as to who would take the time to make this? Please tell us in the comments below.