During the Ubisoft Forward livestream event today, the company revealed that the open beta for Hyper Scape is now live. Aside from he fact that we found out the game's storyline has it taking place in the year 2054 and has people playing in a virtual world ala Ready Player One, we now know the 100 Contender battle royale game is a chance for people to get out of the squaller of their lives. But it comes with a secret that the players must try to uncover as people are now disappearing from the real world. During the open beta, the game will introduce Crown Rush Solo, which is a 100-player free-for-all version of its main Battle Royale mode. Plus, you can still play the three-player squad mode Crown Rush Squad, and two new limited-time modes with Hack Runner Squad and Turbo Mode Squad. There will also be one new hack and weapon, Shockwave and Harpy respectively. You can read more details below from today's announcement, as well as check out the new trailers for the game.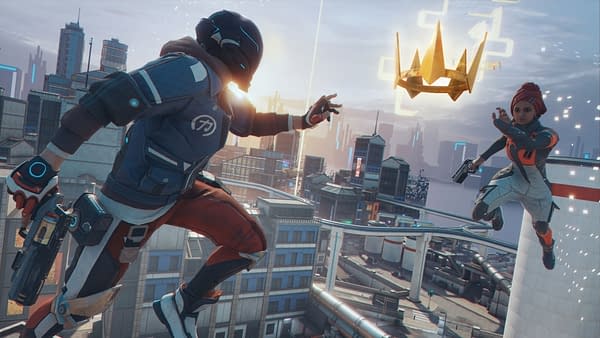 Hyper Scape's Open Beta will also introduce all new features to the innovative Crowncast Twitch extension, including Battle Pass progression by watching Hyper Scape live streams on Twitch and the ability for streamers to invite viewers directly into their squad from Twitch chat. These additions are on top of the previously available Viewer Events, which allow all Twitch viewers the opportunity to have a real-time impact on battle by voting on events that affect all contenders within a match, such as Low Gravity, or Infinite Ammo. The Open Beta introduces a new Event called Haste that increases the game's speed for all contenders.

The Hyper Scape Open Beta will include a free 30 tier battle pass alongside an in-game shop offering additional customization options. All Open Beta progress and items will carry over through future live phases and into the full launch, across PC and console. Hyper Scape will launch its Season One for PC, Xbox One and PlayStation 4 later this summer. Alongside the Open Beta, North America Ubisoft will host a Creators Cup over the next three Fridays from 2:00 pm ET / 11:00 am PT to 4:00 pm ET/ 1:00 pm PT, featuring some of the top Hyper Scape creators competing for a total prize pool of $50,000.

Hyper Scape was designed from the ground up as an intense, vertical and fast-paced battle royale experience with Twitch streamers in mind. Three-player squads and solo players can dive into the futuristic virtual city of Neo- Arcadia to engage in dynamic firefights, quickly transitioning from narrow streets to open rooftops and deadly interiors. Hyper Scape introduces Hacks, abilities that players can loot in the world the same way they do weapons. Hacks grant offensive and defensive capabilities to suit all playstyles. Laying down a mine, seeking an enemy, protecting the squad with a big wall or turning invisible to sneak up on opponents are just a few examples of the Hacks players can combine and swap effortlessly. All Hacks and weapons can be upgraded through the Fusion mechanic to produce more powerful iterations of the pre-existing item.
Enjoyed this article? Share it!