Amy Hennig's Talks About Visceral's Star Wars Game And How It Will Be Tonally Similar To Uncharted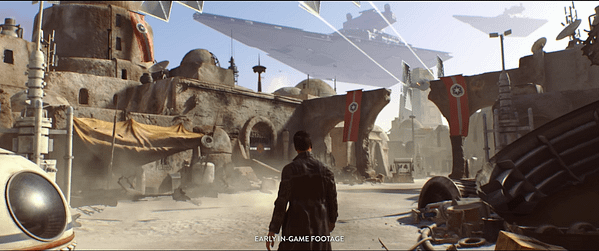 Amy Hennig's Star Wars game has loomed over EA's schedule like a specter for quite some time. It's been a few years since the Uncharted creator left Naughty Dog to go work on a game in the franchise with Visceral, but it is, as of yet, mostly illusive.
The game director was at Star Wars Celebration though and she did talk a fair bit about the process of getting the game right. During a panel, (via GameSpot), Hennig talked in depth about the process.
She said:
The reason [we're collaborating with Lucasfilm so closely is] we're writing an original Star Wars story with new characters, locations, tech, creatures, you name it. All of it has to sit authentically alongside the stuff people know now. The process that I've been using is really similar to what I did with Uncharted, to be honest. If you're trying to re-create that classic–in [Uncharted's] case–pulp action adventure experience, you need to deconstruct the films so you know how to reconstruct them in an interactive context as gameplay.

The end goal is by the time the player has finished playing they feel like they really did play a Star Wars film. So I've done the same thing for Star Wars.
She also added that the game is similar in tone to Uncharted, with a 'swashbuckling charm' and humour, as well as jeopardy.
I really do want this game to be opened up a little more now. I assume we will see at next E3, but there could be a chance to see it around the launch of Rogue One... I wouldn't hold my breath though.