Some cool news from Bandai Namco yesterday as they announced Super Dragon Ball Heroes: World Mission would finally come to the west. The game will officially be released on PC and Nintendo Switch in Japan on April 5th, 2019, and will have subsequent releases in Europe and North America shortly after. The game carries on the storyline from Dragon Ball Xenoverse as Time Patroller Trunks and the Supreme Kai of Time run into Sealas, a new character to the series created by Toyotaro claims to be the first Time Patroller, and most likely the main character you'll be playing. He's a description of the game we were able to track down as you're basically going to be playing a half-brawler half-card game.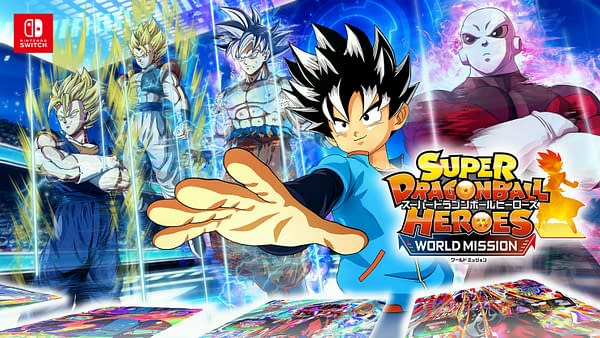 Super Dragon Ball Heroes: World Mission will allow players to form a team of 7 cards from a select 1,160 cards and enjoy seven-verses-seven card-based battles. Players will be able to enjoy all eight SDBH missions from the arcade, as well as the first missions of SDBH: Universe Mission. The game will have over 350 characters, online and local play, customization modes, and its own original story. Pre-order bonuses include a package of Super Rare SDBH cards including Goku: Xeno, Vegeta: Xeno, Future Trunks, an unknown card at this time, and one Hero Avatar Card. Furthermore, you will also get a download code for 3 Super Rare cards usable for in the game including Goku, Vegeta(SSB):, and Jiren.
Enjoyed this article? Share it!