"Warhammer: Chaosbane" Adds A New Fifth Character For Free
Nacon revealed a brand new addition coming to Warhammer: Chaosbane as players will be getting a fifth new character for free. Players will be getting a new mission featuring Keela, a dwarf engineer who can pack a punch and give you some advantages in areas you wouldn't suspect. She has officially been added to the game as we speak, you'll just need to update your copy of Warhammer: Chaosbane to get her. Here's some added details on Keela and a trailer showing off what she can do.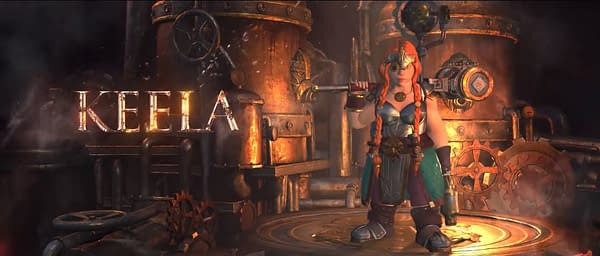 Keela is a dwarf engineer. The combination of her skills in engineering, hydraulics, explosives and alchemy make her a fearsome opponent. In hand-to-hand combat, Keela deals heavy damage with a war hammer of her own design. She's also capable of inflicting short and medium-range damage with her hand weapons.Players will get the most out of this character by combining her various skills.

Keela takes players to a new environment: the Forges. During this new story arc, players must investigate the events happening around the Forges of the Empire capital, Nuln. The Gunnery Master of the famous Imperial Gunnery School has put out a call for help: the foundry complex is in the grip of a terrible affliction. The city's best engineers are trapped inside. Players must break inside the complex to try and save the trapped engineers and defeat the scourge that has beset the Forges.