Charizard Gets A Costume In Pokémon GO 6th Anniversary Event
Details for the annual Pokémon GO Anniversary Event have been announced. Since this is the game's sixth anniversary, the event will be six-themed. As such, it will focus heavily on the sixth entry in the Pokedéx: Charizard. In addition to this, there will be an event-within-an-event that will see the debut of Shadow Latios in Pokémon GO. Let's get into the details.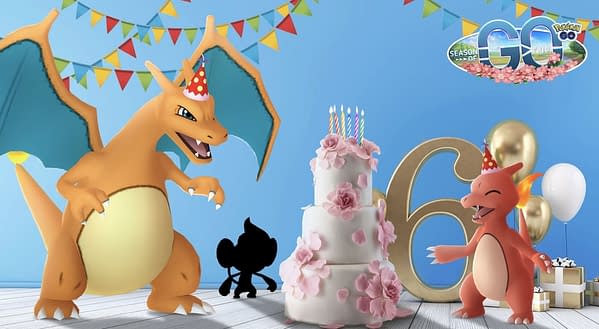 Here is what's happening in the Pokémon GO 6th Anniversary Event:
Date and time: Wednesday, July 6th, 2022, at 10 AM to Tuesday, July 12th, 2022, at 8:00 PM local time.
New Costumed Pokémon:

Party Hat Charmeleon
Party Hat Charizard
Cake Costume Pikachu
Trainers will also be able to evolve Party Hat Charmander into Party Hat Charmeleon and Party Hat Charizard.

Wild Spawns: Bulbasaur, Party Hat Charmander, Squirtle, Cake Costume Pikachu, Machop, Ledyba, Ralts, Buneary, Venipede, Chespin, Fennekin, Froakie, Bunnelby, Litleo, and Pikipek. Rare spawns will include Gabite, Clauncher, and Helioptile.
Raids:

Tier One: Cake Costume Pikachu, Dratini
Tier Three: Venusaur, Party Hat Charizard, Blastoise, Tyranitar, Metagross. Party Hat Charizard can be Shiny.
Five-Star: Zapdos
Mega: Mega Charizard X from July 6th – 7th during the event and Mega Charizard Y from July 7th – 12th.

Field Research encounters: Bulbasaur, Charmander, Squirtle, Chikorita, Cyndaquil, Totodile, Treecko, Torchic, Mudkip, Turtwig, Chimchar, Piplup, Snivy, Tepig, Oshawott, Chespin, Fennekin, Froakie, Rowlet, Litten, and Popplio. A starter avalanche!
Battle Weekend event:

Date and time: Saturday, July 9th, 2022, at 12:00 AM to Sunday, July 10th, 2022, at 11:59 PM local time
Features:

Team GO Rockets balloons will appear every three hours
Enjoy up to 20 GO Battle League sets each day
Quadrouple Stardust from GO Battle League Rewards
Charged TM will be able to remove Frustration from Shadow Pokémon so you can suit them with useful attacks
New Legendary Shadow Debut: Shadow Latios will arrive! You will have to complete Special Research to obtain a Super Rocket Radar to find and defeat the Team GO Rocket boss, Giovanni.