[rwp-review-recap id="0"]
I don't know how many of you reading this feel about online group survival RPG games, but they've been leaving a real nasty feeling with me lately. The last experience I had that turned out to be a total waste of time for various reasons was Conan: Exiles, as I watched teammates die slow deaths to animals only for myself to eventually die off from people dropping by to slaughter me for the few precious items I managed to craft. Finding a good game in the genre is getting more difficult, but I put those feelings aside as I jumped into ARK: Survival Evolved. ARK: Survival Evolved puts you in the shoes of a custom created human in whatever vision you'd like. You're dropped into the middle of a world filled with mostly dinosaurs, weird mutated versions of what look like prehistoric creatures, and semi-modern creatures so something looks vaguely familiar. While you have dozens of tasks in front of you, you truly only have one goal: survive! The game plays out like a lot of similar ones in the genre where you'll build everything from clothing to weapons to shelter in order to sustain some kind of living on this planet.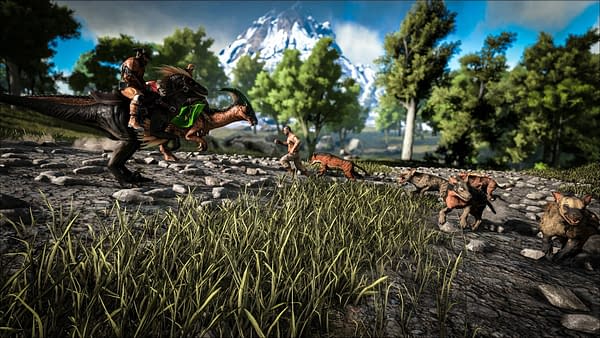 You're not alone at all as you are left with the task of making friends with a fellow player or going to war with them and taking their resources. While I normally don't recommend pairing up with people, it is vital in this game to do so if you wish to get anywhere beyond having a basic hut and trying to survive the night against dinosaurs and raiding parties. As you grow as a character, you'll be able to forge new structures and eventually new technology that will help you tame the beasts around you and hunt down the ones that refuse to become docile. One of the biggest elements that pulls the game down is personal management. You need certain things to survive like water, food, shelter, etc. In order to get proper food that doesn't involve risking your life, you have to farm it. And much like farming, you need to cultivate it (gathering poop) and monitoring it (waiting). In fact, there's a lot of waiting in this game that really makes things unappealing and drives down the gameplay. You wait to hunt, you wait to build, you wait to upgrade, you even wait for new resources to come around so you don't have to go find them elsewhere. When you do get to hunt, you are savagely outmatched as even the fish can be better at killing than you. Most every form of creature on this planet, some with a brain the size of a walnut, are better at killing than you. SO when you die off, it just becomes tedious to respawn and try again. And let's pretend for a second you do manage to survive most of the in-game the animals—there's still one creature left you can't predict, and that is the humans. As much as I'd like to wish for something different, it is true that your fellow players are far more responsible for your own failures in the game than you are. I really wanted to like ARK: Survival Evolved, but it suffers from the same kind of open world problems that a lot of open world games suffer from: too much freedom. At a certain point in time, when death becomes far too frequent a problem in the game that I can't even progress to a point of truly having any kind of fun experiences with it, it becomes a waste of time and money. The game has a lot going for it, but it needs a better system in place to curb the human attraction for chaos and shitty behavior toward others before I'll spend another hour in it.
[rwp-review-ratings id="0"]
[rwp-review-form id="0"]
Enjoyed this article? Share it!