We're Getting Fish Ponds In The Next "Stardew Valley" Update
It's been about six months since we've heard anything new from Eric "Concerned Ape" Barone about new material coming to Stardew Valley. Barone took to Twitter this past week to let fans know there was a new 1.4 update on the way, and with it was going to come very special.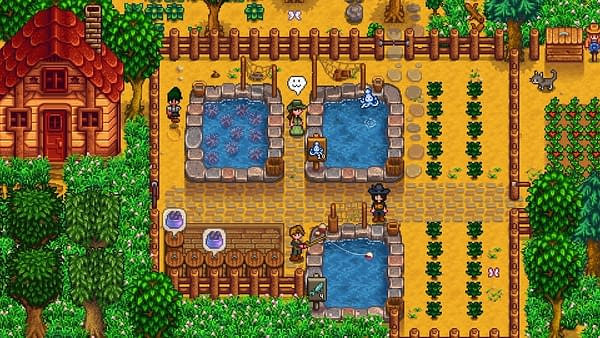 We're now going to get fish ponds that you can add to your farm for a variety of reasons. Among them, breeding and farming fish rather than going out and fishing for them off of any ol' pier. Much like a hatchery would operate, you'll be able to seed the pond with eggs and cultivate your own fish which you can then collect.
Depending on how Barone has utilized this system, it gives way for a whole new kind of farming if you so desire. If you can buy certain eggs, plant different fish together, get specific kinds of awesome catches. A few other updates teased with 1.4 will be that you can recollect items that you may have dropped in mines, as well as a new farm layout simply referred to as Four Corners. No word yet as to when the update will come to Stardew Valley, but when it does, there will be many a happy farmer.