One of the most valuable tools for a fantasy role playing game is the miniatures. They act as an immersive element for the setting that the game master has created, and having the right miniatures for that setting can go a long way towards pulling the players into the game.
So, what do you do when you need the population of a small village, right now?
WizKids is coming to the rescue this June with the Deep Cuts Unpainted Miniatures: Townspeople & Accessories set, which comes with just about everything you need to staff your village. Except, you know, the village, but there's terrain for that.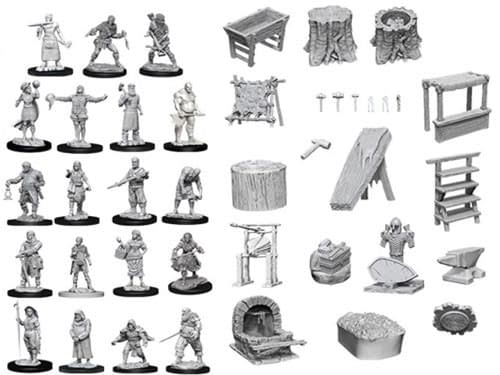 Looks like you'll get 19 townspeople miniatures, which will make your village streets look a little busier, plus scenery pieces and tools of the trade to round out the scene. Tanning racks, shelves, vendor stalls, a blacksmith's forge, and an armorer's rack really add a lot of character to the set!
These should go pretty well with existing Deep Cuts miniatures of civilians, barkeeps, and barmaids. There's also a pretty neat Tavern interior, too, which came out a couple of years ago.
Now all you need is a few buildings (I highly recommend David Rackam's excellent paper model kits), and you're set to take a journey to a fantasy village!
The Deep Cuts Unpainted Miniatures: Townspeople & Accessories carries an MSRP of $59.99, and should be available for pre-order from your local game store now!
Enjoyed this article? Share it!