This week, Wargaming introduced a new mode coming to World Of Warships as it will get its first battle royale mode in Rogue Wave. When the 0.85 update comes around, you'll be getting a new temporary mode where players will face off in four teams of three. You'll battle over resources in the flooded ruins of a sunken city, as you start with no consumable items and will have to navigate a world on the brink of collapse with nothing but your small fleet. It wouldn't be battle royale without a wall, and in this mode, you'll have a wall of wildfire will steadily engulfing the battlefield to force you together or die trying. We have more details about it for you here with a trailer, and you can read more details on the World Of Warships update at this link.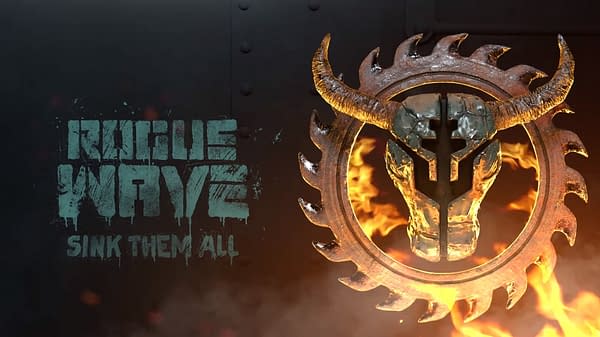 Rogue Wave features three new ship classes specifically designed for the mode. The Octopus gathers ships armed with powerful torpedoes and low detectability, though featuring automated main batteries. The Moray Eel is comprised of highly maneuverable ships, designed for aggressive close quarter brawls, whereas the ships belonging to the Barracuda class are formidable vessels focusing on speed and powerful main battery guns.

Alongside Rogue Wave's temporary Battle Royale mode, 0.8.5 introduces four Directives featuring ten missions each. Accomplishing these missions will enable players to earn Fuel Tokens and various other in-game items. Fuel Tokens can then be spent in the Armory on exclusive consumable post-apocalyptic camouflage, credits, Premium Account time and even a new Premium ship, the Benham – a Tier IX American destroyer, equipped with 16 torpedoes – a record for this Tier – and featuring unique post-apocalyptic camouflage as well as a new commander.

Additionally, the 0.8.5 update will introduce two new seasons of Ranked Sprints, where players will compete in 6v6 battles, while controlling Tier VII ships. Season 5 battles will be played in Domination mode, whereas Season 6 will feature Epicenter mode.

This update will also include Clan Brawl – a series of battles where clan teams will fight against one another over a single day for Steel and other valuable items, as well as a host of improvements and modifications, including new mechanics for damage inflicted to ships and shell penetration, a reworked minimap which now displays only the necessary information and much more.
Enjoyed this article? Share it!