Xbox One Will Be Getting Hellblade: Senua's Sacrifice
If you've been waiting to play Hellblade: Senua's Sacrifice on the Xbox One, it looks like you'll be getting your chance as someone found a new listing showing the game is headed to Microsoft's console. Below is an image that someone found and posted on Reddit showing a listing for the game on a Taiwanese Game Software Rating Regulations website. The one little snag about the entire thing is that there's no release date listed, meaning it's probably still going through some sort of approval system and has yet to receive an official publishing date.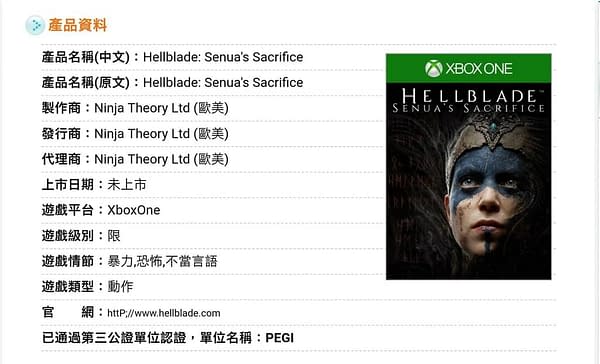 Naturally, this wouldn't be the first time a rating website leaked a game's release long in advance of when it officially comes out. But considering the game is already on PC and PS4 since August last year, you'd think we'd know a little bit more in advance of when the game is coming. Now that the word is out, it's only a matter of time before Ninja Theory or Xbox themselves come clean and stamp a date on it before people start speculating. We won't buy into the rumor mill ourselves until we get official word, so for now, we just have to sit and wait.