A Rare Magic: The Gathering Black Lotus Just Broke Ebay's MTG Sales Record
Yes, it's true, it's happened again. Another rare Black Lotus card from Magic: The Gathering has set another sales record, this time on eBay. You see a picture of the card that was sold below, as it went for $166,100, the highest an MTG card has ever sold on the auction website. The previous record was held by the same Alpha Black Lotus card from 2018, which sold for $87,672. Here's a little more info on the card from PWCC.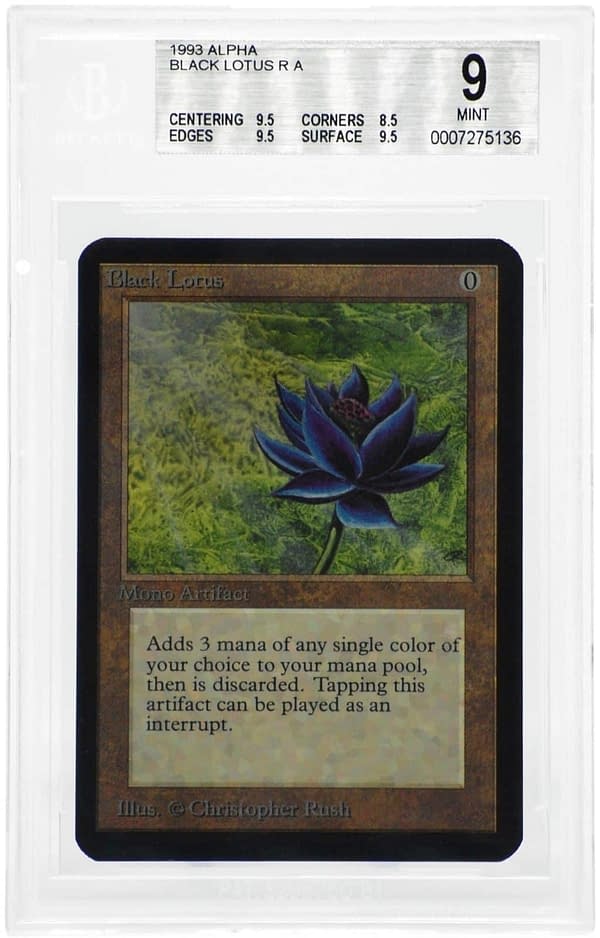 In its auction coordinated on eBay, PWCC entertained 81 bids for the 1993 card. The auction closed Feb. 27 with the deal officially closing in a few business days when the money exchanges hands between buyer and seller. Graded as a 9.5 or GEM MINT by Beckett Grading Services, it is the finest example of a nonsports card PWCC has brokered in its 20+ year history. There were only 1,100 copies produced. However due to vast majority of these cards being played or damaged, it is exceptionally rare to locate an in such high grade.

The record-setting card, sold in PWCC's auction lot #13128, represents an emerging tangible asset class as trading cards, including nonsports variants, becoming a mainstream avenue for investment. Data compiled by PWCC has shown trading cards consistently outperform stocks in a variety of market conditions.
Congrats to the seller for making back their money and then some on the initial investment seven months ago. We look forward to writing about this again in a few months when the winner resells this Magic: The Gathering card for $320k.