We have a bunch of new images for Goodbye Christopher Robin from Entertainment Weekly that gives us a lot of new information, plus a bunch of new looks at the various characters.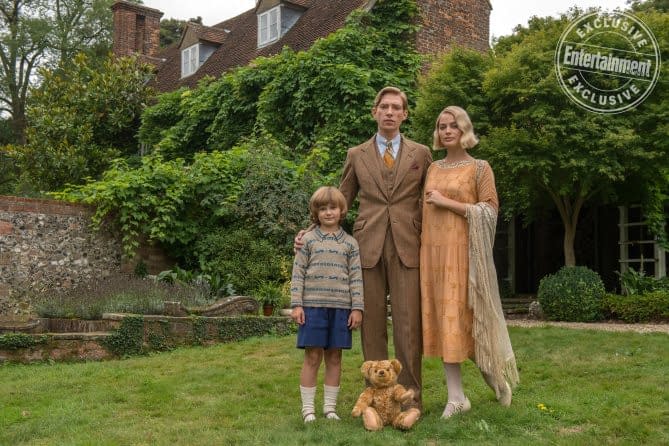 Domhnall Gleeson and Margot Robbie are headed to the Hundred Acre Wood. In Simon Curtis' new film, the pair star as beloved author A.A. Milne and his wife Daphne de Selincourt, the parents of one of the most famous literary children of all time: Christopher Robin. The upcoming Goodbye Christopher Robin (out Oct. 13) tells the story of how the young Milne returned from World War I and became an international sensation after publishing stories based on his young son's toys — including, most famously, Winnie the Pooh.

"I'd never considered why Winnie the Pooh was so popular," Robbie tells EW. "But it was really interesting to learn that part of the reason it was so popular was that it came at a time when the country and the world were hurt from the war. After World War I, everyone felt robbed of their innocence. It gave a little bit of that back. You could open these books up, and there was this beautiful, simple, happy life that you could be transported to. People needed that at the time — and probably need it still today." Newcomer Will Tilston plays the young Christopher Robin, whom his parents called "Billy Moon" at home. When Milne's books take off, Christopher Robin becomes a household name.

"[The film] is a cautionary tale of how damaging fame can be for a child — how it can rob them of their childhood," Robbie says. "I think what was particularly difficult about Christopher Robin's situation was that there weren't as many famous people, or at least as many famous kids as there are today. It was him, and Shirley Temple, and maybe some royal kids. That was it. So there was so much attention on him, and there was literally nowhere in the world that hadn't heard of him." Although Robbie plays the young Christopher Robin's mother, he spends most of his time with his nanny Olive (Kelly Macdonald). As a result, he and his mother have a more formal relationship.

"It was a very different time, and parenting at that time was very different," Robbie says. "It wasn't unusual to spend half an hour with your child at the start of the day and half an hour maybe in the evenings. The rest of the time, they're with the nanny. So that was what I had to get my head around. That wasn't an unusual thing to do."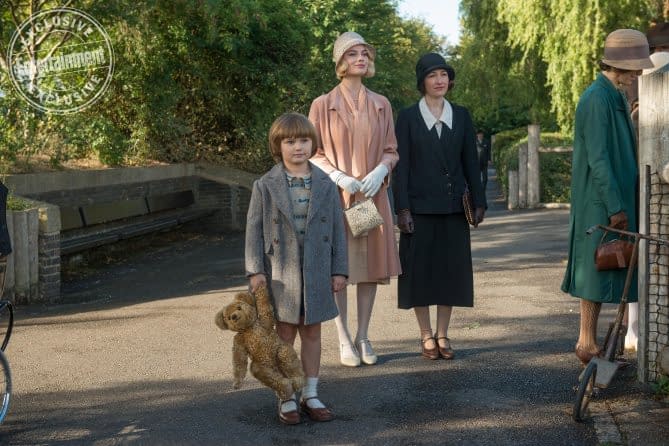 To get that formality between mother and son, Robbie tried to avoid spending too much time off set with Tilston — although sometimes she couldn't resist.

"I kind of intentionally didn't let myself get too close with Will," she says. "I did want there to be a formal sort of feeling between us in the scenes. They're not familiar with each other. Though I was tempted because he's the sweetest kid ever and I wanted to hang out with him and giggle with him!" It also helped that Robbie was a lifelong Pooh fan as well.

"There definitely was a sense of nostalgia for me," she says. "I had a Winnie the Pooh toy and Tigger, and my mom used to do the [characters'] voices the way Daphne did to Billy Moon in the film. So that struck a chord, obviously." Summary: A behind-the-scenes look at the life of author A.A. Milne and the creation of the Winnie the Pooh stories inspired by his son C.R. Milne.
Goodbye Christopher Robin, directed by Simon Curtis, stars Margot Robbie, Domhnall Gleeson, Kelly Macdonald, Phoebe Waller-Bridge, and Nico Mirallegro. It will be released on October 13th.
Enjoyed this article? Share it!