Robert Englund's cult classic 976-Evil is getting a special Blu-ray release this October from Eureka. The film featured a fun story and some great practical special effects, and the disc will highlight that. Among the special features listed for the disc are new interviews with the special effects team, a second version of the film that was released on home video, an audio commentary with Englund, and Nancy Booth Englund, a booklet, and a slipcase cover. 976-Evil deserves a release like this, it is an all-time favorite of mine, and I am glad to see this release come to us. It hits on October 19th, and you can see the slipcase cover below.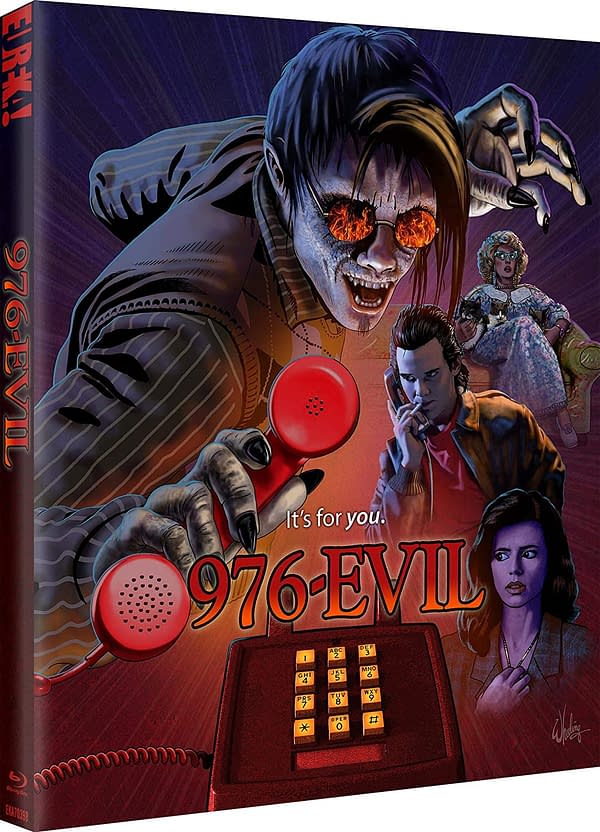 976-Evil Special Features & Specs
"High school underdog Hoax (Stephen Geoffreys – Fright Night) fills up the idle hours in his seedy little hometown fending off the local leather-jacketed thugs, avoiding his overbearing mother (Sandy Dennis) and dreaming of a date with trailer park temptress Suzie (Lezlie Deane), But his quietly desperate life takes a terrifying turn when his cousin introduces him to an unusual new hobby – phoning in for his "horrorscope." Hoax is hooked up with a compellingly hideous demonic force that slowly begins to overtake his entire life, and now there's more than just a phone bill to pay for anyone who ever dared cross "the neighbourhood nerd." Co-written by Brian Helgeland (L.A. Confidential, Mystic River) and featuring incredibly practical effects work from Robert Kurtzman and Howard Berger, Eureka Classics is proud to present 976-EVIL on Blu-ray for the first time in the UK."
Special Features and Technical Specs:
High-definition presentation of the film
NEW interview with special make-up effects artist Howard Berger (The Walking Dead)
NEW interview with special effects technician Kevin Yagher (Nightmare on Elm Street)
NEW interview with producer Lisa M. Hansen
Home video version [105 mins, SD]: An extended version of the film from its original home video release on VHS
Audio commentary with director Robert Englund and set decorate Nancy Booth Englund
DTS-HD Master Audio 5.1 and LPCM 2.0 audio options
Optional English SDH subtitles for the main feature
Limited Edition collector's booklet featuring new writing by Craig Ian Mann [2000 copies]
Limited Edition O-Card slipcase [2000 copies]
Enjoyed this article? Share it!