A Star is Born Review: Bradley Cooper Elevates an Old Classic to New Heights
So by now unless you've been living under a rock you are aware that A Star is Born isn't a new film. In fact this is the fourth time it's been developed for the screen (going all the way back to 1936), and that doesn't even count the number of times it's been made under differing titles. This however is probably the first time since the first where it's been genuinely elevated to new levels.
[rwp-review-recap id="0"]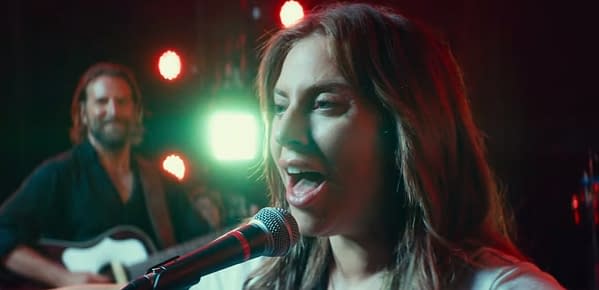 That Lady Gaga is one of the premiere musical talents of her generation is hardly news, and she's already proven she had a certain level of acting chops from her stint a few seasons ago in American Horror Story: Hotel. However what actor now-turned-director Bradley Cooper (who also serves as Gaga's co-star in the film as well as one of the films writers) helped emerge out of her as a performance is so next level that you really have to see it to believe it.
As with the earlier incarnations of the film, the story follows Jackson Maine (Cooper), a past his prime star who battles addiction and a fading limelight that happens across a young talent, Ally (played by Gaga). In the original two films they were actors, and in the last one and this one, they're musicians. On seeing her up on stage he recognizes that glow of undeniable talent and potential. They fall for each other and he helps coax her music from singing covers at a local drag dive to stepping onstage and into history.
In earlier times, the veneer of celebrity and stardom is the focus, and the male lead winds up becoming jealous of her rising fame. This time he's always supportive, he just fears for her losing her artistic beauty as she gets drawn into the marketing machines of the industry. There's times where the film wavers towards melodrama, but the sublime honesty and intimacy of the character performances for everyone on the cast hold it from teetering over the edge.
The music is great, and sure it's a touch of a stretch how well she fits into the harmonies on her first foray into the big stage. But beyond that, the pieces fall into place. There's no caricatures running around – everyone has a story from before they arrive on the camera and will continue on long after. In the past films the story leans heavily towards having Ally at the center, but here it's their mutual story. Both together and as individuals, they wrestle with their mutual inner demons, which the other can help battle, but not conquer.
If this is any sign of what we have in our future for Lady Gaga as an actress and Cooper as a director and screenwriter, it should be called The Stars Are Born.
[rwp-review-ratings id="0"]
[rwp-review-form id="0"]