Agents of SHIELD Season 5, Episode 16 Recap: Inside Voices
This article contains spoilers for the Marvel's Agents of SHIELD season five episode – Inside Voices.
.
.
.
.
.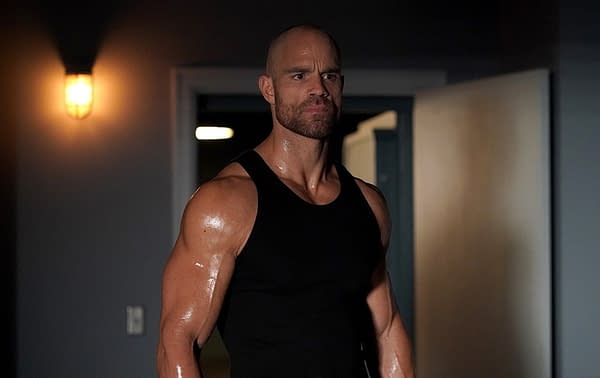 The episode opens with Phil Coulson still being held by General Hale, except now he has not cot, not chair and no Captain Crunch. The last one he's the most upset by. But he's not giving in. Hale then has Carl Creel try to do his absorbing thing with the gravitonium and it practically attacks him. And he senses the presence of Dr. Franklin Hall and then it kicks him out and he tells the General that it's alive.
We then get the opening credits and come back to Yo-Yo working the heavy bag with her new robotic arms. She talks with Mack about maybe taking it slow, she doesn't seem to want to. He's not happy about her saying she's invincible having seen herself in the future, but she brushes it off. Deke has a moment with his newly discovered grandfather, but Fritz still doesn't see it. Deke tells him that the move to force Daisy to get her powers back was the first thing Fitz did that he respects. Deke also says that since she's in charge, Daisy is kind of a hard ass… Fitz gestures to the cell he's in and says, "I've noticed." As Deke heads out, Jemma tracks him down to find out if he remembers them having any major injuries or health issues. He tells her he doesn't know much of them, he just knew them as Nana and Bobo but offers to tell stories of his mother. Jemma declines saying its best not to know too much. He makes the same comment about Daisy to Jemma who says she noticed.
Daisy is still insisting on bringing Robin in to get answers against May's protests. She also shuts down Jemma who wants Fitz released so he can track the weapon. May tell Daisy she needs to dial it back a bit, but Daisy says she's just leading until they get Coulson back. Jemma brings Yo-Yo in on her plan, explains that Deke is their grandson and Yo-Yo sees that they are the Immortal Three. Jemma's plan involves her, Fitz and Yo-Yo tracking down the devices, but that involves Mack as only he can open the cell and Jemma has a plan for that too.
Hale checks on Creel who seems to be having issues since touching the gravitonium, still hearing the voices. Hale wants him to be part of another test, but he seems doubtful. Meanwhile, they pick up Robin and Daisy learns that she hasn't been speaking for weeks and what ever she is seeing is overwhelming her. Von Strucker is trying hard to recreate his father's note on the Particle Infusion Chamber when Roby comes in and tells him that he mom is up to something with Creel. He says the gravitonium is meant for Ruby and he'll work harder to make it happen. Cut to the Quinjet as Daisy tries and fails to get Robin to talk to her, even when asking for helping finding Coulson. Then we cut to Mack running a diagnostic on Yo-Yo's arms. She asks him to release Fitz, so they can find the weapon, but he refuses. She wants to do more, but he wants to protect her. We then cut back to Creel who hears the gravitonium voice talk about Coulson and he goes to his room, knowing the gravitonium hates Coulson. Asks why. Coulson tells him about General Talbot and how Hale is torturing him. Creel takes Coulson to find out if it's true.
Back on the ship, Robin won't talk to Daisy, but we see her last drawn was of her own death in the future. And Robin finds May and calls her Mommy and hugs her. Cut to Creel and Coulson finding Talbot and the three trying to get out of the building. Yo-Yo brings Mack to Jemma outside of Fitz's cell, she pours three glasses of water and a fourth of acid has Yo-Yo mix them up and drinks three to prove she can't die. After the third, she collapses to the floor in pain. Mack releases Fitz to save her, but Yo-Yo pushes Mack inside and locks the door. We find out that Fitz wasn't in on it and the fourth vial was the acid, she just didn't choose it. Jemma still insists they're invincible. Yo-Yo tells Mack that she's doing it to protect him and if they don't return, then the broke the time loop.
May talks to Robin who tells her that Coulson is going to die, and that May and Daisy need each other. Robin has drawn a picture of Coulson and possible Talbot in the mountains. They use the computer to try and match landmarks from the crayon drawing. As Coulson on the others are trying to escape, they are overheard, and Hale is notified. She sends Ruby to stop them, and to bring Creel back alive. A couple robot soldiers attack. One of them hits Coulson in the chest, stopping his heart. Creel shocks him back to life. Talbot tells Coulson, "You die more than anyone I've ever met." He thinks Creel and gets back to his feet. Ruby shows up with two more Robots an opens fire as Coulson and the rest run. They get to the room where the communication device is. Carl opens the door then goes to hold the others off while Coulson and Talbot use the communication device as a teleporter, leaving the altitude dial alone. Ruby and Carl fight, both holding their own until Ruby is about to try and kill him when Hale comes in and halts the fight. She throws her blade anyway and Carl transforms into wood just in time to save himself. Hale asks who the hell Ruby thinks she is, Ruby calls herself the Destroyer of Worlds. Hale smiles and sends Ruby after Coulson and Talbot.
Coulson and Talbot appear on a snow-covered mountain, with three peaks behind them just as Robin drew. But the ending is a bit of a surprise as we cut back four years to Raina is in the back of a van with Ian Quinn and the gravitonium when she opens it, saying it wanted Quinn, and then the gravitonium sucked him in.
It's interesting that all of this is tying back to Franklin Hall and the third episode of season one. Which means that the person who destroys the world could have been there all along, as Franklin Hall aka Graviton in the comics, would absolutely have the power to shatter the Earth. It would be a fascinating way to bring it all full circle if this turns out to be the final season of the series. And I wonder if Coulson dying from the robot punch is the death Robin was talking about? And the title, Inside Voices, plays well with both Coulson telling Talbot he needs to use his inside voice and the voices Carl starts hearing from the gravitonium.
Next week it looks like Ruby goes off the hook and faces off with Quake.