Agents of SHIELD Season 5, Episode 21 Recap: The Force of Gravity
This article contains spoilers for the Marvel's Agents of SHIELD season five episode – The Force of Gravity.
.
.
.
.
.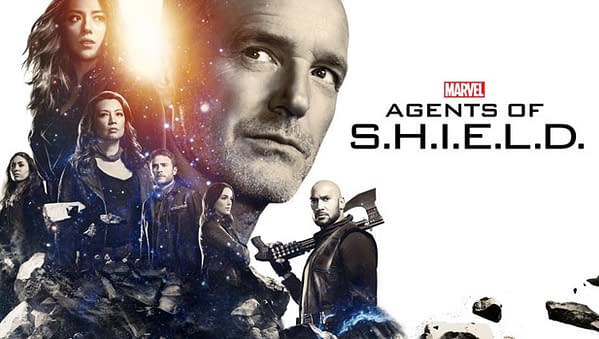 As of right now there is still no word on the fate of Marvel's Agents of SHIELD. In January ABC President Channing Dungy said she was 'cautiously optimistic' about the show being renewed, but the writers have worked towards a season finale that will work as a series finale… and coming out of the penultimate episode of the season, it does feel like we're coming to the end of the line for both the series and for Agent Phil Coulson (Clark Gregg). Last night's episode split the team apart to start with. Daisy (Chloe Bennet) was being taken to Taryan (Craig Parker) and having some kind of mental conversation with him while she was being moved. Coulson and May (Ming-Na Wen) are put into a cell by Qovas (Peter Mensah), Deke (Jeff Ward) and Agent David (Maximilian Osinski) are on the Zephyr with aliens crawling about, Mack (Henry Simmons) and Yo-Yo (Natalia Cordova-Buckley) head off to confront Talbot (Adrian Pasdar) while Fitz (Iain de Caestecker) and Simmons (Elizabeth Henstridge) try to find a way to take away Talbot's powers.
Talbot first visits Carl Creel (Brian Patrick Wade), making him turn into gravitonium and then absorbing him. He then goes by his home to see his son George (Jack Fisher) who he wants to take flying, but his wife, Carla (Raquel Gardner) has heard from SHIELD and tries to get George to safety. Talbot pins her against the wall and then Mack and Yo-Yo arrive, he confronts them outside and is close to killing them when George tells him he's not a hero, that he's the bad guy. Talbot flies off to get the rest of the gravitonium so he can take on Thanos. Meanwhile Fitz and Simmons figured out how to use the centipede serum to save Coulson and use it to feed the Odium into Talbot's system to kill him.
In space, Deke gets off the ship and frees Coulson and May. They talk about escaping but need to stop the missiles Qovas has aimed at the Lighthouse. Qovas sends his alien killers out to take care of SHIELD. Daisy gets tired of playing mind games with Taryan and breaks free, taking out her guards and catching up with the others. May decides that Daisy and Coulson would take the Zephyr back to the surface while she and Deke would deal with the missiles. Arguing over the decision, they're attacked. Coulson uses his energy shield from his tech hand to block the attack and grabs May and kisses her, giving us one of the most iconic moments in the series run. Daisy sees this and is shocked for a second before taking out the alien. Coulson and Daisy head to the Zephyr, clear it of aliens and take off. May and Deke get to the control room where May has to fight Qovas while Deke figures out how to reprogram the missiles. He ends up taking the navigational computer while he's at it. May holds her own and Qovas, giving Deke the time he needs. But Qovas fires the missiles and we see that they turn around and head for the ship. May and Deke use the alien transporter to get back to the Lighthouse.
Coulson and Daisy contact the Lighthouse and we see that May and Deke made it. Mack and Yo-Yo are on their way back and now with Daisy and Coulson flying in, the team will be all together again. And then Coulson passes out. We find out he's not going to die yet, but soon. Fitzsimmons shares their findings on how to save Coulson and stop Talbot and Daisy has to explain that they only have one centipede serum, there is no more. The episode ends with the question of do you save Coulson or stop Talbot… knowing that future Yo-Yo says you must not save Coulson.
This feels like the end of Coulson's story, which in a way would be the end of Agents of SHIELD as he has been the glue that hold the series together. The series started because of the outcry after he was killed in Marvel's Avengers and his death all these years later would be a fitting circle. And because all of this is taking place parallel to Avengers: Infinity War, continuing the series would need to address the ending of the film as well. I hold out hope that the series will continue, but I can see how ending it may be easier all around.